Want to help Haiti. I'd suggest the Haiti Emergency Relief Fund which can be found
here
.

AN EMERGENCY APPEAL FROM THE HAITI EMERGENCY RELIEF FUND...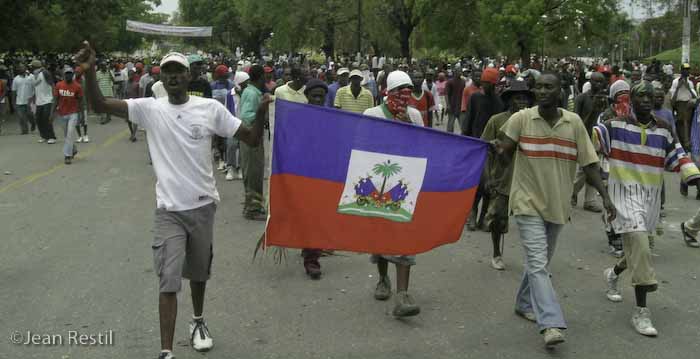 Haiti hit by the first large earthquake in 240 years

Death toll growing. Tens of thousands may have been killed and hundreds of thousands left homeless.
This is a moment in which your solidarity is of critical importance.
January 13, 2010
Dear Friends of Haiti:
Haiti has been hit by the first large earthquake in 240 years. The enormity of the effects of this devastating 7.0 quake are only barely understood at this time. Thousands may have been killed and tens of thousands left homeless. This is a moment in which your solidarity is of critical importance.
Haiti's grassroots movement – including labor unions, women's groups, educators and human rights activists, support committees for prisoners, and agricultural cooperatives – will attempt to funnel needed aid to those most hit by the earthquake. Grassroots organizers are doing what they can – with the most limited of funds – to make a difference. Please take this chance to lend them your support.
This is a time for all of us to act.
What Can You Do?
Since its inception in March 2004, the Haiti Emergency Relief Fund has given concrete aid to Haiti's grassroots democratic movement as they attempted to survive the brutal coup and to rebuild shattered development projects. We urge you to contribute generously, not only for this immediate crisis, but in order to support the long-run development of human rights, sustainable agriculture and economic justice in Haiti.
During this period, if you or anyone you know are planning to make a donation to assist those in need, please consider the Haiti Emergency Relief Fund. Donations will be forwarded to our partners on the ground to help them rebuild what has been destroyed.
Click the button below to donate to:




Haiti Emergency Relief Fund




which supports organizations giving humanitarian aid to the people of Haiti


in the aftermath of this devastating earthquake

or mail check made out to:

"Haiti Emergency Relief Fund/EBSC"

donations tax deductible

send mail to:

East Bay Sanctuary Covenant
2362 Bancroft Way
Berkeley, CA 947

Please consider a tax-deductible donation to HERF/EBSC.
EBSC is a non-profit 501(c)(3) organization, tax ID# 94-3249753.
We will acknowledge all donations.
Here are some of the projects we continue to support in Haiti:
Sustainable Agriculture – HERF has contributed much-needed funds to peasant cooperatives in various parts of Haiti. We have provided irrigation pumps, funds for seeds and tools, and other needed resources. We believe that local agricultural development and the growth of a cooperative movement in Haiti are part of the long-term solution to the food crisis.
Victims Assistance –HERF funds have supported grassroots activists who had to flee their homes and live as internal refugees. We have also contributed to campaigns to free political prisoners and given much-needed financial support to their families. In a recent case, a family could not locate their son who had been held as a prisoner in Port-au-Prince. After weeks of pressuring the authorities, they finally found his body at the morgue. No explanation was given for his death, a common occurrence in Haitian prisons.
Independent Human Rights Monitoring - HERF has given support to human rights workers and attorneys who continue, under dangerous conditions, to document human rights violations and defend victims of repression. They have provided material, psychological and legal assistance to victims of the 2004 coup. In particular, we have given continued support to the efforts to insure the safe return of Lovinsky Pierre-Antoine, a central figure in Haiti's popular movement, who was disappeared on August 12, 2007, and has not been heard from since.
Women's Organizing – Women's organizations are leading education campaigns, supporting market women, helping women form cooperatives, sustaining the victims of rape and other forms of sexual and physical abuse. HERF has been in the forefront of supporting these projects.
Defending Trade Union Organizers – HERF has assisted trade unionists whose labor organizing was violently attacked throughout the coup period. We have provided support for labor activists forced from their homes and their jobs due to repression, and supported the efforts of trade unionists to fight privatization.
Education/Literacy - Since the coup, government subsidies for school children have been cut and many literacy projects have been terminated. HERF has provided funding for many important educational projects in this period: a school for poor children in Port-au-Prince, educational projects in the rural areas of northern Haiti, literacy programs
We can expect that the mainstream media will shift its eyes away from Haiti over the next months. We will not do the same. One concrete form of support is to help the Haiti Emergency Relief Fund. HERF is administered by a board of Haiti solidarity activists and deeply connected to grassroots movements in Haiti. In a country in which many people live on less than a dollar a day, every dollar goes a long way. Please give generously. Our dollars can do so much.
Sincerely,
Walter Riley
Civil rights attorney, Chair of the Haiti Emergency Relief Fund
Sister Maureen Duignan, O.S.F.
Co-Chair, Haiti Emergency Relief Fund
Pierre Labossiere,
Board Member, Haiti Emergency Relief Fund, Co-Founder of Haiti Action Committee
Randall White
Deacon,
Allen Temple Baptist Church
, Board Member HERF