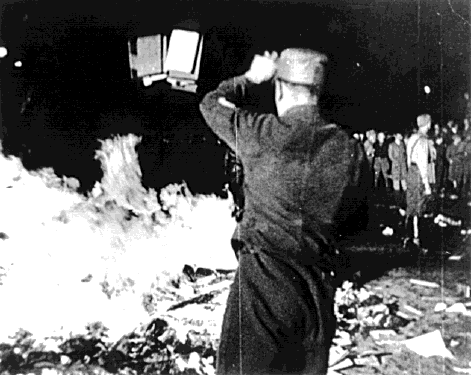 The sad fact about the article below is that book banning in schools in the U.S. is far worse than the author even realizes. The following article is from PERIÓDICO 26 (Cuba).
Tantrum in Miami
By Juana Carrasco Martin (with Juventud Rebelde Newspaper)
- internac@jrebelde.cip.cu -
A children's book has kicked up a fuss in Miami, a place where intolerance is a daily routine.
A father —only one father— complained about the fact that a library at a public school in Miami-Dade County had a travel book about Cuba on its shelves. The parent was upset about the descriptions and pictures showing daily life in a country ruled by a "Communist government."
The book, A Visit to Cuba by Alta Schreier, features photographs of smiling children wearing bright school uniforms, and there is even a shot of a party in which people are celebrating the triumph of the Cuban Revolution. That was too much for Juan Amador, who describes himself as a former Cuban "political prisoner." Speaking to Miami's WTVJ Television, he said, "I found that such material was not trustworthy. That is a Cuba which doesn't exist."
Due to of his malicious stupidity, the lie was echoed. School district spokesperson Joseph Garcia explained that the book was published in 2001 as part of a series of schoolbooks for second and third graders which describes several countries, including as Australia, the UK, and others. He commented that the book was "a simple representation of life, and obviously Cuba's social and political situation is more complex," expressing his support for the decision to withdraw the book from the shelves of Marjory Stoneman Douglas Elementary School.
At the same time, Supervisor Rudolph Crew announced the possibility that the book could "be removed from all libraries." Such clumsiness is in line with the absurdity and irrationality that rule life in that US city. What is more, such insanity reaches the White House, which supports, encourages, and finances a policy which seeks to wipe out — through any and all means— a social and economic system that upsets it.
Howard Simon, the executive director of the American Civil Liberties Union (ACLU) in Florida, called into question the decision by the school. He said, "If the father who made the objection does not want his child to see this book, that is his right; but I don't think that he has any right to conceal information from each child that attends each school in Miami-Dade County." He went on to say, "that is the right that the supervisor has given to this father."
The issue will continue to be addressed at an April 19 meeting, the very day that the 45th anniversary of the Bay of Pigs Victory is celebrated in Cuba. In that far-off and beautiful place, children wearing their bright school uniforms will study, learn history, play, and smile. In the meantime, some people in Miami will resent their defeat at the Bay of Pigs, and perhaps one of them will be that lone, fundamentalist father.