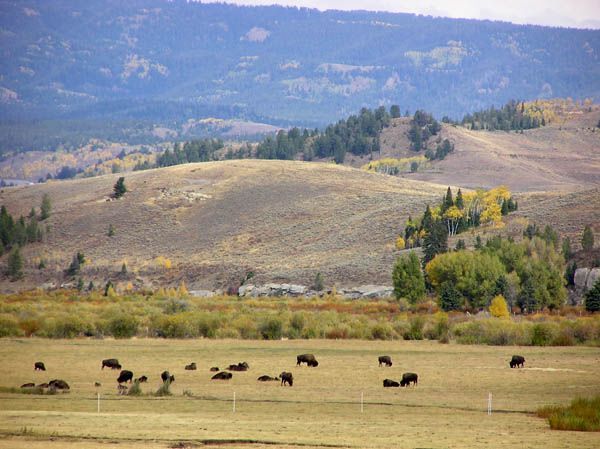 Noble Basin
I wonder what the tea baggers think of Wyoming residents who aren't happy with plans to wreck the environment in one more part of their state.
From JHnews and guide.com
By Cory Hatch, Jackson Hole, Wyoming
Date: January 20, 2011
Energy industry and Forest Service officials on Tuesday heard frustrations, sometimes in the form of expletives, from citizens worried about 136 gas wells proposed for the Wyoming Range.

Bridger-Teton National Forest supervisor Jacque Buchanan took questions from the standing-room-only crowd at Snow King Resort after telling the audience the decision on Plains Exploration and Production Company gas field in Noble Basin is one of the hardest she's had to make during her career.

Western Wyoming residents at the forum said government and industry officials failed to keep the promises they made ahead of gas field development in Sublette County.

"The violations have been numerous," Daniel resident Horton Spitzer said. "Do you know how much money has been collected for violations? Zero."

"We have an air problem and we have a water problem," Spitzer continued. "We've got problems in Sublette County, and we'll have problems in Teton County. This should be stopped dead."

The decision on whether to drill was made by the Bureau of Land Management in the early 1990s, Buchanan said.

"What's in front of me right now is the implementation of the [development] side of it," she said at the meeting. "This is the opportunity for all of us to work together to end up in a better place with a better product."

Spitzer pointed to some of the problematic techniques used to extract natural gas.

Hydraulic fracturing breaks up subsurface rock formations to release natural gas, but uses dangerous chemicals that have contaminated residential water supplies, Spitzer said.

"It is toxic," he said. "To have the energy company say, 'It's not our fault' is disingenuous. It's a goddamn lie."

Jacksonite Leigh Reagan said Plains Exploration and Production Company should be required to publicly list the chemicals used in hydraulic fracturing.

"People need that level of detail [on hydraulic fracturing fluids]," she said. "Especially people who live near the well."

In his expletive-laced comment, Teton County resident Philip Kos said the BLM employees who approved drilling in Sublette County during the Bush Administration for the most part didn't care about the impacts and if they did care they were fired.

"I'm outraged," Kos continued. "I've watched ... Sublette County turn into a f-----g drill pad."

Better oversight is needed for energy development in the region said Wilson resident Leslie Petersen, who ran as a Democrat in the most recent contest for Wyoming governor.

"We've seen the failures in the drilling that has occurred in Sublette County," she said. "We know that what's been done in the past has not been good enough. We simply cannot allow this kind of shoddy oversight."

At least one meeting attendee said he supports the proposed energy development, because development means more jobs for the region.

Officials said the publics concerns will be reflected in the decision.

Some meeting attendees questioned the validity of the leases, saying the BLM did not seek enough public comment when it first approved drilling.

"That was a BLM decision," said Greg McGowan, an ecologist with Arcadis Inc. "I don't know what the level of public involvement was at that time."

Buchanan said "there had to be some public process; to what extent, I just don't know."

The plan, proposed by Plains Exploration and Production Company, calls for the upgrade of 14 miles of existing roads, the construction of nearly 15 miles of new roads, drilling 136 wells from 17 pads and the construction of gas and liquids gathering lines and facilities. The area is expected to be in production for more than 30 years.

Citizens may submit written comments to Bridger-Teton National Forest supervisor Jacqueline Buchanan, P.O. Box 1888, Jackson, WY 83001; and electronic comments to comments-intermtn-bridger-teton-big-piney@fs.fed.us with the subject line "Eagle Prospect and Noble Basin MDP DEIS." The plan is available at www.fs.fed.us/r4/btnf/projects/. Comments are due Mar. 10.