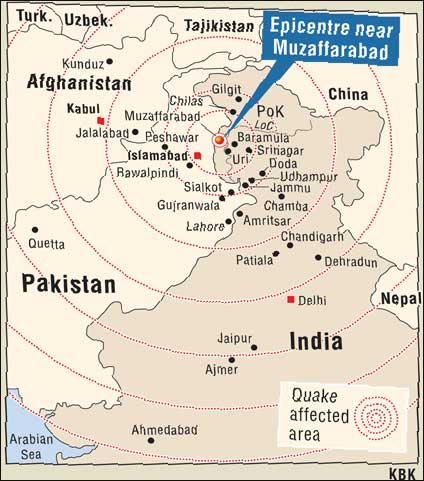 Quake kills hundreds in India, Pakistan
from Aljazeera
Saturday 08 October 2005 9:49 AM GMT
A powerful 7.6-magnitude earthquake near the Pakistan-India border reduced villages to rubble, triggered landslides and flattened an apartment building, killing more than 1000 people in both nations.
Pakistan's army called Saturday's devastation "a national tragedy".
In the capitals of Pakistan, India and Afghanistan, buildings shook and walls swayed for about a minute, and panicked people ran from their homes and offices.
Tremors continued for hours afterward. Communications throughout the region were cut.
About 1000 people died in Pakistani Kashmir, said Sardar Mohammed Anwar, the top government official in the area.
"This is my conservative guess, and the death toll could be much higher," Anwar told Pakistan's Aaj television station. He said most homes in Muzaffarabad, the area's capital, were damaged, and schools and hospitals collapsed.
At least 550 people died in Pakistan's North West Frontier Province, the local police chief said.
"The death toll is between 550 and 600 in North West Frontier Province and it is likely to rise," Riffat Pasha, the provincial head of police told AFP.
Another police official said more than 500 people had died in the province's remote districts of Mansehra and Malakand.
"We still do not have any full death count but the reports sent by different police stations say between 500 to 600 people have died," Mansehra police official Mohammad Asghar told AFP.
The quake, which occurred directly on the dividing line between the Indian and Pakistani controlled zones of Kashmir, triggered landslides and sent terrified residents fleeing into the streets.
Senior Pakistani officials described scenes of "massive devastation".
Thirty-five people were feared killed when a courtroom and two schools collapsed in northern Pakistan during the huge quake, police and officials said.
The Pakistani military said that at least one village in Kashmir had been destroyed and that troops and helicopters had been scrambled to reach the stricken areas.
"There are reports of buildings collapsing in several cities in central Pakistan. We have no exact estimates, but the casualties could be very high," said one Pakistani official, asking to remain anonymous.
The Indian army said at least 31 people - 16 civilians and 15 soldiers - had been killed in the Indian-controlled zone of Kashmir and about 300 taken to hospital.
Indian army spokesman P Sehgal said many soldiers had died when their positions caved in along the line of control, the heavily-militarised de facto border which divides Kashmir into Indian- and Pakistani-administered zones.
Sehgal said others were hit by falling trees and landslides.
The US Geological Survey and the Pakistan Meteorological Department said the quake measured 7.6 on the Richter scale, while the Japanese Meteorological Agency put the temblor higher at 7.8.
The epicentre was around 100km northeast of Islamabad, according to most agencies, although the Earth Sciences Observatory in the French city of Strasbourg said the epicentre was just inside Indian Kashmir.
The divided territory of Kashmir is claimed in full by India and Pakistan. Thousands of troops face off on each side of the line of control and the two countries have fought two wars over the territory.
The quake shook the desert town of Quetta, 700km southwest of Islamabad as well as the northern Afghan city of Kunduz, 500km north of the Pakistani capital.
In Islamabad, part of an 11-storey apartment block collapsed leaving dozens of people trapped and neighbours clawing at the rubble in an attempt to free them.
Bloodstained people could be seen trapped beneath huge stone slabs at the scene while desperate cries for help could be heard.
A school in the nearby city of Rawalpindi also came down, killing one child and injuring six others, while Afghan officials said at least two children had been killed near the town of Jalalabad.
Witnesses in Islamabad said the ground shook for more than 30 seconds, rocking buildings and causing widespread panic. A second, less severe jolt lasted about five seconds.
Many mosques in Islamabad started reciting special prayers straight afterwards.
The quake was felt strongly in Indian Kashmir, causing panic and bringing people pouring out onto the streets of the summer capital, Srinagar.
"This is the strongest earthquake I have ever witnessed in my life"
"This is the strongest earthquake I have ever witnessed in my life," said Aisha Begum, 84.
Screams were heard from across Srinagar as people fled homes, shops and offices fearing they would be buried under rubble.
Doctors at Srinagar's main hospital said more than 200 people were admitted with injuries and shock, while more than 100 people were being treated at an army hospital in the northern town of Uri alone.
The tremor also brought down part of the state-owned television's main transmitter tower on a hill overlooking Srinagar.
The disputed Kashmir region is an area of high seismic activity that lies in the collision zone of the Eurasian and Indian tectonic plates.
FROM PERSONAL BLOGS
Sat Oct 8 13:17:15 2005
Name: VINEET SANTOSHI
Email: vineet_santoshi@rediffmail.com
Quake Experience: I was driving my bike to office on red signle my bike is moving like a boat i was supriesed every body was looking each other this nature
City: New Delhi
Sat Oct 8 13:17:46 2005
Name: NEERAJ
Email: neeraj.bhatia@rediffmail.com
Quake Experience: Everything was quiet.Suddenly things started shaking.. we could see shaking window blinds and everbody was havin an indifferent and experience
City: New Delhi
Sat Oct 8 13:18:04 2005
Name: Sunil Macwan
Email: rushi_intl2003@rediffmail.com
Quake Experience: Never to say....This was a great exp. of my life....like a high BP of a man, the heart beat increased.. the same way i wast felt the earth beats...
City: Anand
Sat Oct 8 13:18:19 2005
Name: archana
Email: archanamishra@yahoo.co.in
Quake Experience: i was waiting for my friend outside her hostel suddenly i found that someone is pushing me after some time i realize that it was earthquake
City: chandigarh
Sat Oct 8 13:18:32 2005
Name: A.Murali Reddy.
Email: muralireddya@yahoo.com
Quake Experience: I am In Kabul it is around 8-30 am just I am reading my mails on laptop suddenly on my table laptop shaking little bit immediately run away from office, but still I have fear may be earth quake come again. A. Murali Reddy.
City: Kabul
Sat Oct 8 13:18:47 2005
Name: Abhijit Das
Email: abhijitdas86@rediffmail.com
Quake Experience: Our aquarium in our house in New Delhi crashed onto the ground and the sofa moved from one end to the other.
City: New Delhi
Sat Oct 8 13:19:09 2005
Name: karthik
Email: karthikv22@rediffmail.com
Quake Experience: I wremember the time as i was jus lookin at my watch.we were waiting for our college bus.me and my friends were sitting on a platform. I felt a sudden movement I initially felt that it was my head that was spinning. , so when everyone felt the same way we then thought it was the platform. When we reached college, we got to know that it was a quake.
City: Dehradun
Sat Oct 8 13:19:24 2005
Name: debashis
Email: debashis_mazumdar@rediffmail.com
Quake Experience: i was talking to my colleague, when we felt a sudden tremor and saw the computers shaking and the fan swinging, all the people in the office started vacating luckily nobody got injured, and there was no damage to building, but pretty horrifying experience.
City: New Delhi
Sat Oct 8 13:19:52 2005
Name: PANKAJ
Email: PANKAJ_JAIN1985@REDIFFMAIL.COM
Quake Experience: I WAS NOT ABLE EVEN TO FEEL IT
City: DELHI
Sat Oct 8 13:20:05 2005
Name: Sanjeev
Email: sanzy_28@rediffmail.com
Quake Experience: I was in office..... and it was like somebody is pushing my chair then after few minutes i came to know that its earthquake... but its tooooooooooooo scary... Thanks to God Almighty that we are safe
City: Vaishali (Ghaziabad)
Sat Oct 8 13:20:19 2005
Name: sanjay
Email: vo12da@yahoo.com
Quake Experience: Arround 9:25 am my computer started shaking, I thought its elelc. prob.Next my chair started shaking.I thought my friend is doing something.but he was bussy with pfone.Then i saw almira it was also swaying.Then i saw the one cable which was shaking.At that moment i relised tha it is an earthquake.Me & my friend rushed to open space.
City: baddi,distt:solan,Himachal
Sat Oct 8 13:20:56 2005
Name: juned umer
Email: umer_80@rediffmail.com
Quake Experience: Today morning at 9.25 am I am sitting down infront my computer in the office. suddenly something is hanging in our top. I so anxes. In running out the office. We are so nerves & after 10 minutes we are relaxing. J&K is very upset God bless him.
City: Chandigarh
Sat Oct 8 13:20:57 2005
Name: G. Agrawal
Email: grics@sify.com
Quake Experience: Well it was around 9.00 I was standing in my factory which has a small water pool. Suddenly the water starts shaking and the 1/3 water just overlowed. Then I hear the clattering of the factory windows. By the time we evacuated the building it was all over. We could see the entire shed shaking. Luckily there was no damage caused.
City: Kathua
Sat Oct 8 13:21:00 2005
Name: T R Balakrishnan
Email: trbala2005@rediff.com
Quake Experience: Not felt in New Mumbai
City: New Mumbai,Maharashtra
Sat Oct 8 13:21:17 2005
Name: Shahzad
Email: bunny2000@rediffmail.com
Quake Experience: As you know it is the holy month of our ramzan going on, we slept so late after taking sehri(pre dawn meal)but we had to wake up early yo attend office.I was reciting Quran in loud voice and my mother was also in other room. We live at the fourth floor of our building. Suddenly i felt some viberations. I adjusted my chair as it is of some shaking nature and started again on Quran but again i felt even the table over which i was doing the same. I looked back my sister was on her bed in other room complaining that some thing has moved inside her bed and viberating it my mother also felt the same. in no time we took a final nod that this is an earthquake. we started jumping stair by stair but instantly i thought ofmy third floor family whose husband goes office early in the morning she must be left with her two wards she would be feeling helpless. I knocked out her door and lifted her one of the child and asked to run as she by the time now has also felt the tremor. Thus, we all just came out of the building and escaped the high shocking tremors to fall on us.
City: New Delhi
6 for 6 minutes...
It was extremely terrifying. Was sleeping at around 8:45 when suddenly heard a strange sound, 'gaunj' which woke me up for a while but just as I was about to close my eyes for sleep something shook my bed totally. It was the quake. In sleep I failed to recognise it first and tried sleeping again but the second shock was the worst. the whole structure seemed to move for a while. I ran outside trying to go in the street when our maid shouted me to stay where i am and sit down immediately. I din't know what was going on I tried to run again but was again asked to sit down where i stood. I sat on a nearby bench while she recited Kalima in a hoarse voice. The whole house seemed to be moving, shaking badly. Thankfully it stopped soon but it was horrible. I gathered my senses and went to sleep again..
The sound of Geo's broadcaster woke me up from sleep as I heard him talking about the earthquake. I never realised it was that bad till i got to see the television. Margalla Bulding was left to dust, several casualities were reported. They fear that the death toll may rise beyond 1000!. Tauheed Khalla called from Islamabad and told that a crack appeared on one of their walls. The news agency's are only talking about Islamabad and nothern areas not even mentioning Lahore which shows how viscious the quake was over there.
May Allah help us recover from this terrible incident and Save us in future!
Aamin!
Massive tremors rock north India
Massive tremors rocked North India at 9.25 AM on Saturday morning. Tremors measuring 6.8 on the richter scale were felt in Delhi, Srinagar, Amritsar, Patiala, Jaipur, Chandigarh and Dehradun. The quake had its epicentre in Pakistan.
Immediate reports from Jammu & Kashmir say that normal life has been disrupted. Communication lines have been disconnected. People have left their houses and taken refuge under the open sky.
The tremors went on for about thirty seconds and are reported to have also been felt in neighbouring Pakistan and Afghanistan.
...
[+] Expand this post
Bala at 12:04:00 AM | 0 comments | Post a Comment | Want to help? | Need help? |
SATURDAY, OCTOBER 08, 2005
Pakistani college closed - Update from Ayub Medical College, Abbottabad
Abbottabad and areas around faced a heavy eartquake (7.6) at 8:42 AM today the 8th September 2005 which resulted in damage to many buildings and have claimed many lives in Abbottabad, Mansehra, Balakot, Garhi Habibullah, Muzafarabad and areas north to this region.
All hospitals in the region are on Red Alert receiving victums of the quake. More than 200 patients have been treated in Ayub Teaching Hospital till now (3:30 PM)
The Surgery Paper B of Final Year MBBS has been posponed while the rest of the examination will be on schedule. The College will remain closed till further order. The hostels have been evacuated as a precaution. For more information please email, call +92-(992)-381907 or send a fax to +92-(992)-382321
Source: Ayub Medical College
Angelo Embuldeniya (Strav) at 11:38:00 PM | 0 comments | Post a Comment | Want to help? | Need help? |
Fearing aftershocks, Pakistan hospital treats wounded outdoors
Lying on makeshift beds on a hospital lawn in this northwestern Pakistani hill town, some screaming in pain, hundreds of men, women and children wait for help. But they have to stay there for now, because doctors say the monster earthquake that rumbled through the region early Saturday could have made the building dangerous.
"We feel it is unsafe to keep patients inside," Amir Shah, a senior doctor at the Ayub hospital in Abbotabad, told AFP.
Already at breaking point because of the flood of victims and a shortage of supplies, vilent aftershocks added to the worry.
From MEDECINS SANS FRONTIERES
TEAM AT ASIAN EARTHQUAKE ZONE
MSF has a staff of three who recently arrived in the Pakistani area to start a project on safe motherhood. The focus now is to mobiize more staff and supplies to the region.
An earthquake measuring 7.6 on the Richter Scale struck in the north of Pakistan this morning, just 80 kms north of the Pakistan capital, Islamabad. The affected area runs from the north of Afghanistan and Pakistan to the Indian Kashmir.
The damage throughout the affected region is considerable and the number of victims is expected to be high. Immediate media estimates anticipate over 1,000 feared dead.
MSF was already present in the area with three expats in the village of Lamnian in Pakistani Kashmir, some 15 kilometers from the line of control with Indian Kashmir and close to the epicentre of the earthquake. The three are a project coordinator, logistician and nurse and were about to start a project there and were hiring national staff.
The village has been completely destroyed, including the clinic where we are about to start working and the MSF house. The project would focus on safe motherhood. All team members are fine.
The Pakistani army is responding with big logistical/medical capacity
MSF is now focusing to getting reponse capacity to the region. Stocks from Quetta, Dubai and Mumbai will be moved up to the north and MSF is looking into how to get additional resources in the country; cargo as well as people (blankets; jerrycans; sleeping mats and tents) ...