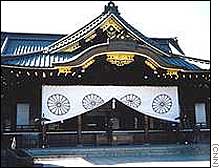 "Shrine visits aren't generally big news these days. But when the shrine is Yasukuni, notorious for having 14 class-A war criminals among its revered spirits, and when the visitor is Junichiro Koizumi, prime minister of Japan, the world takes note." So writes the Guardian and a group of protesters showed that to be true last night in Tokyo.

Prime Minister Junichiro Koizumi suggested again on Thursday that he intends to visit Tokyo's Yasukuni Shrine, where war dead including Class-A war criminal are enshrined, on the Aug. 15 anniversary of Japan's World War II surrender.

Koizumi has gone to the shrine each year since taking office in 2001 but never on Aug. 15. Those visits have infuriated Japan's Asian neighbors, especially China and South Korea, who suffered atrocities from Japanese aggression before and during WWII.

In June, the Tokyo High Court on Wednesday rejected a damages claim filed by religious leaders and kin of Japanese and South Koreans war dead, over visits to the Yasukuni Shrine by Prime Minister Junichiro Koizumi and Tokyo Governor Shintaro Ishihara.

Last week,China expressed concern over reports that Japanese Chief Cabinet Secretary Shinzo Abe visited the Yasukuni Shrine in April, Foreign Ministry spokesman said.

"We hope that the Japanese side will make similar efforts along with the Chinese side to push Sino-Japanese ties back to the track of normal development at an early date," spokesman Qin Gang said while asked for comments.

"It is a common aspiration of the two peoples and conforms with the fundamental interest of the two countries for Japanese leaders to stop visiting the Yasukuni Shrine, where World War II criminals were worshiped, and take tangible action to eliminate political obstacles hindering the normal development of Sino-Japanese relations," Qin said.

According to a memorandum, written by late Imperial Household Agency Grand Steward Tomohiko Tomita, the late Japanese Emperor Hirohito also expressed strongly his displeasure in 1988 over Yasukuni Shrine's decision in the late 1970s to include Class-A war criminals of World War II into its honor list. The families of some of those honored with their names on the shrine have asked their relatives names be removed.

In fact Japan Times reports relatives of war dead honored at Yasukuni Shrine submitted to the Osaka District Court on Friday the first-ever lawsuit filed directly against the Shinto institution, demanding that their relatives' names be struck from its rolls.

Nine plaintiffs, including Ryuken Sugawara, 66, a Buddhist monk from Shimane Prefecture, and Yang Yuan-huang, 51, from Taiwan, claim the enshrinement of the war dead without the permission of surviving relatives infringes on their right to decide how to mourn their loved ones.
The following is from China's People's Daily.
Candlelight protest held in Tokyo against Koizumi's Yasukuni visit
A group of people from China, South Korea and Japan held a candlelight demonstration on Friday evening in Tokyo, calling on Japanese Prime Minister Junichiro Koizumi to refrain from paying visit to the war-linked Yasukuni Shrine before stepping down next month.
The demonstration, called "Let's light a candle of peace," was participated by representatives from China's Taiwan Province, 8 South Korean lawmakers and more than 100 Japanese civil group members.
Led by the South Korean lawmakers with a big banner in their hands, the demonstration started at eight o'clock from Hibiya Park, and marched to Chiyoda Ku's Kasumigaseki district, where most of Japanese central government ministries are located.
The demonstrators chanted slogans criticizing Koizumi's shrine visit and demanding the "return of spirits from Yasukuni of the Taiwanese aboriginals and the South Korean bereaved" who have been enshrined there.
The organizing committee of the protest held a meeting in the afternoon.
South Korean lawmaker Kim Hee Sun said Koizumi's visits to the Yasukuni Shrine, which honors Class-A war criminals of World War II, carried Japan's attempt to legitimize its colonial rule on the Korean Peninsular, and the purpose of the candlelight demonstration is to send a strong appeal against the shrine visit by Japanese politicians and to call on permanent peace in Asia.
Japan should reflect on its past aggression so that it will be able to truly reconcile with all victims and contribute to deep- rooted peace, Kim said.
Hundreds of thousands of aboriginals in Taiwan have suffered from Japanese militarism, said Chen Mingzhong, a representative from Taiwan, who added that the forced enshrinement of the aboriginals in Taiwan in the Yasukuni, which honors Japanese war dead, is a blasphemy of their dignity, and people in Taiwan strongly demand the return of the spirits of their ancestors.
The representatives of the candlelight protest handed in a petition to the Cabinet Office in the afternoon, calling for the stop of shrine visit by Japanese leaders.
Several Japanese civil groups gathered in front of the prime minister's official residence, urging the Japanese government to set up a correct view of history and to commit itself to building a peaceful Asia.
The candlelight demonstration will last through Monday. Fifty aboriginals from Taiwan and 170 South Korean people will join the protest from Saturday.