It is Prison Friday and...
As Project NIA writes:
In the words of writer Mychal Denzel Smith, "Marissa Alexander was just trying to save her life" when she was assaulted and threatened (again) by her estranged husband. When she retrieved a gun and fired a warning shot in self-defense, she could not have imagined being convicted and sentenced to a mandatory minimum of 20 years in prison. Yet we know from history that too often women who protect themselves from unrelenting violence are criminalized.
'No Selves to Defend' features the stories of women of color who have been criminalized for self-defense. The exhibition examines the contested meanings and historical and contemporary understandings of self-defense. It seeks to locate Marissa Alexander's story within a broader historical context and legacy. The exhibition also addresses the campaigns and mobilizations that emerged to resist their criminalization and demand their freedom. Finally, it considers how we can support current survivors of violence who have been criminalized for self-defense.



The exhibition which opens today in Chicago
is organized by
Project NIA
,
Chicago Taskforce on Violence against Girls and Young Women
and
the Chicago Alliance to Free Marissa Alexander
. It is co-curated by Rachel Caidor and
Mariame Kaba
There is more. A
series of events will take place to raise awareness about Marissa's case, to learn about the historical context of the case, and to take action.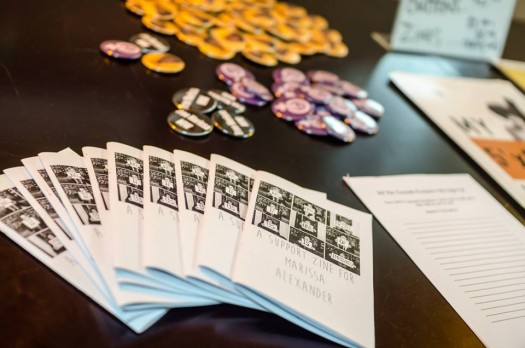 July 18, 6 to 9 p.m.
– Opening Reception for
No Selves To Defend Exhibition
at Art in These Times, 2nd floor of 2040 N Milwaukee Ave. Chicago, IL 60647 USA. Details are
HERE
. Facebook event page
here
.
July 19, 1 to 4:30 p.m
. Free Screening of
Crime After Crime
– Join us for a screening and discussion of the film Crime After Crime. Roosevelt University, 425 S. Wabash Ave, Room 418. RSVP to
freemarissachicago@gmail.com
. – Facebook event page
here
.
July 25, 5:30 p.m.: Sticks and Stones and Stories – Storytelling for Self and Survival. Storytelling to fight back. Storytelling in Solidarity
The more we are injured by oppressive institutions and trauma in our lives, the more we are identified by the stories told about us, and not the stories we share about ourselves. This event is about sharing personal experiences of forcible displacement. That can happen through incarceration, deportation, detention, eviction, or other systems that exist to confine us to a single identity: criminal, unfit, illegal, homeless, invisible. We can fight that violence against us. We can share something about our lives and how we see ourselves, and find love and support in the process. That solidarity makes us infinitely more powerful, unstoppable, and ready to fight back! Join us.
What: Story Sharing Event plus Dinner
Where: 114 N Aberdeen, Chicago
When: Friday, July 25, 5:30 pm
This event is co-organized by Chicago Alliance to Free Marissa Alexander, Black on Both Sides, Moms United Against Violence and Incarceration. Contact Holly for more info: 630-258-8552, holly.krig@gmail.com
July 26, 2 p.m.
:
A Community Gathering and Rally in Support of Marissa
in solidarity with
Stand Our Ground Week of Action
. We invite all community members to join us in song, performance, poetry and more. This is a family-friendly event. More details to come.
Find all upcoming events
here
.
In Jacksonville, Florida:
Organize in Your Communities:
If you can't make it to Jacksonville or Chicago, we encourage you to raise your voices in your own community! Supporters of Marissa Alexander have done incredible actions to make sure that her name is not forgotten. This week of action is the BIG PUSH! We need you to really
raise your voices
when her trial begins so that everyone knows what's happening and why it's important that Marissa is free!
POSSIBLE PROJECTS:Find resources here to support your local action!
LET US KNOW!
If you're organizing an event in solidarity with Standing Our Ground Week of Action,
let us know
! We want to connect your group with what's going on in Jacksonville via phone or web during the week. We'd love to share photos or video of your action!
Stay in touch atfreemarissanow@gmail.com.
#SelfiesForSelfDefense
Show your support for Marissa Alexander, a black mother of three and survivor of domestic violence from Florida who is being threatened with 60 years in prison for defending her life!


HERE'S WHAT YOU DO::
July 25-Aug 1: Standing Our Ground Week of Action
Standing Our Ground Week of Action
is a major mobilization of support for Marissa Alexander in Jacksonville, FL and other communities who will stand our ground to demand the end of domestic violence, mass incarceration, and reproductive violence. On August 1st, Marissa Alexander will learn from a judge if he will grant her a new Stand Your Ground hearing.
More ways to take action can be found HERE!
Free Marissa Now is an alliance of organizations and activists working to free Marissa Alexander. The core organizing team includes members from African-American/Black Women's Cultural Alliance,New Jim Crow Movement, Radical Women and Pacific Northwest Alliance to Free Marissa Alexander, and INCITE!. The Free Marissa Now Mobilization Campaign engages people in the US and all around the world with projects that help support the call to free Marissa Alexander and organize towards ending domestic violence and mass incarceration. The campaign includes:
Contact us for more info about the campaign and how to get involved.
Thanks for all this to Free Marissa Now