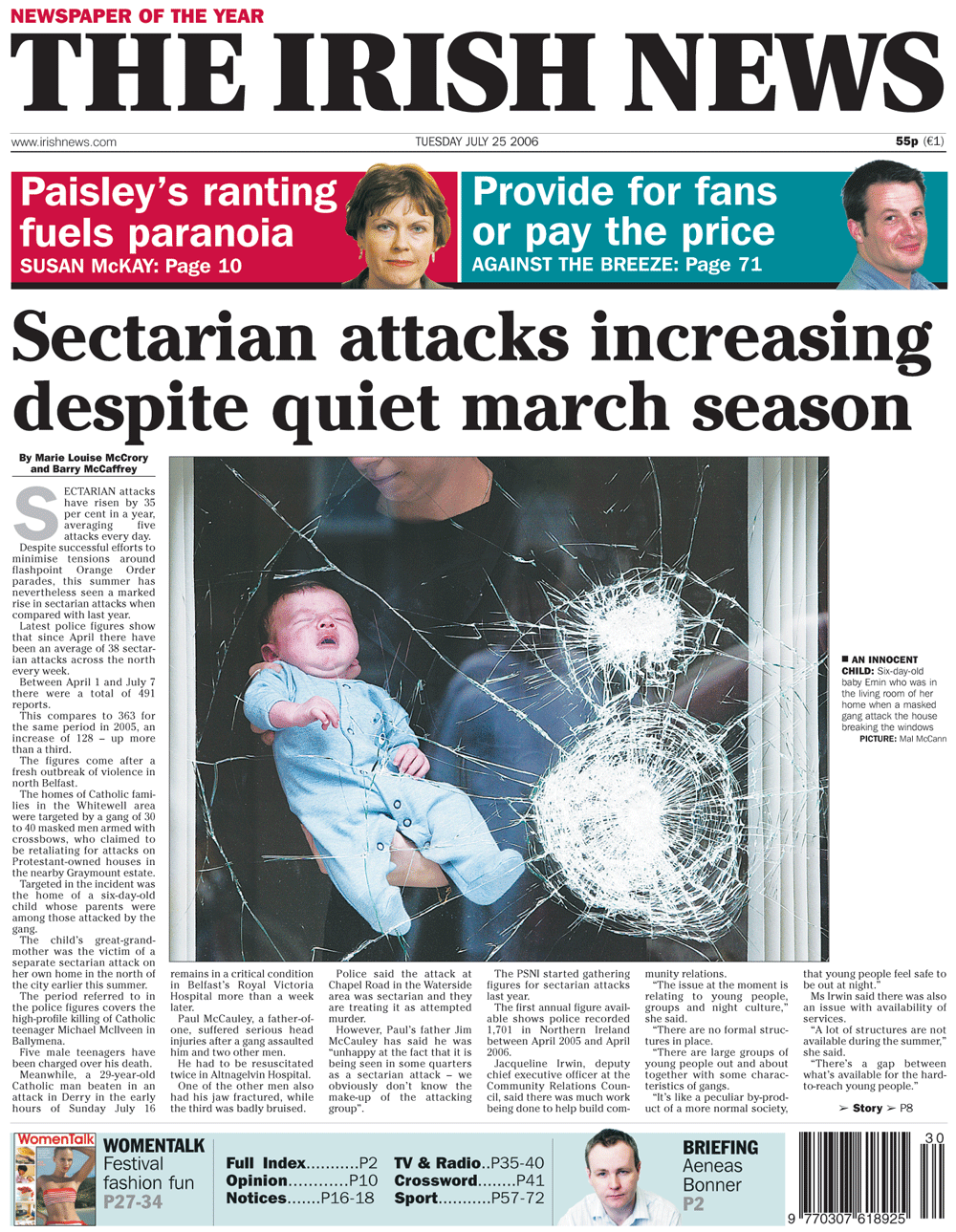 A gang of masked men armed with hatchets and golf clubs, entered a Catholic area of Belfast last week and proceeded to break several windows of homes and vandalise a number of cars.
Daily Ireland reported one local resident said of the attack, "There must have been about 40 of them and from all ages. The oldest ones would have been in their mid-30s right down to teenagers.
"They had crossbows and one of them even had a gun. The rest had bricks and stones. I came out because I thought someone was putting stuff in a skip we had hired but, when I got out, one of them pointed the crossbow at me and shouted 'UVF'. He was wearing a balaclava.
"We have been attacked here before but never as bad as this. Everyone is very frightened," she said.
A north Belfast Sinn Féin councillor demanded the erection of a security gate on the Whitewell Road following the loyalist attack. Councillor Cunningham slammed the Northern Ireland Office for its refusal to put a gate on the alleyway used in the attack. "We have fought long and hard to get this alleyway closed off at night but still nothing has happened.
Meanwhile, the family of Paul McCauley are maintaining a vigil at Paul's bedside at the Royal Victoria Hospital in Belfast. The 29 year-old civil servant remains in a critical condition and unconscious more than a week after he was attacked in the garden of his home in Derry by a loyalist mob. Paul suffered a fractured jaw and the family have been told he 'died' twice after the attack and had to be resuscitated. A second man, who suffers from a disability, sustained serious injuries including a broken jaw, while the third escaped with minor injuries.
Paul's father told the Derry Journal, "The chilling truth is that there's a potential murder gang on the loose in the Waterside leaving the community in fear."
The following is taken from Sinn Fein News.
Masked unionist mob attacks Whitewell homes and UDA gang behind Derry sectarianism
Masked unionist thugs armed with crossbows, hatchets, iron bars and baseball bats attacked up to five homes in Catherine Court off the Whitewell Road in Belfast late on Sunday night 23 July. In one of the houses attacked the terrified mother of a six day old baby told of how she and her husband barricaded themselves in as they feared the mob was about to break their front door down.
Speaking to the media 12 hours after the attack the woman, who would only be identified as Danielle, said she was nursing six day old baby Emin on the sofa beside the front windows of the house when the loyalists struck.
"They were beating the windows and doors with iron bars. We just barricaded ourselves in", said Danielle.
In June Danielle's 91 year old grandmother was in her Crumlin Road home when it suffered a similar attack. "What kind of people attack a 91 year old woman and a six day old child", asked Danielle.
As the 40 strong loyalist gang rampaged its way through the small cul-de-sac smashing windows of homes and windscreens of cars, mother of two Kelly O'Kane came out of her home.She was confronted by a masked man who pointed a crossbow at her head. Her nine year old son witnessed the incident and according to O'Kane the boy couldn't sleep afterwards.
Sinn Féin councillor Tierna Cunningham, speaking to An Phoblacht at the scene said the PSNI took a number of crossbow bolts away on Monday morning. She described these as eight inch steel bolts. "Clearly the attackers fired a number of these bolts during this incursion. I dread to think of the consequences had one of them struck a resident".Other residents maintained that at least one of the gang was armed with "some sort of air rifle".
60 year old Teresa Knowles who lives in the first house on Catherine Court confronted the gang as they smashed her windows in. "I was so angry that I went out to confront them but they threatened me". The pensioner had to be treated for shock by paramedics who were called to the scene of the attack.
Tierna Cunningham demanded that the NIO seal off the alleyway between the Whitewell Road and the unionist Graymount area from where the attackers came.
"All people want is some kind of gate so their homes are protected", said Cunningham. The NIO maintain that to erect the gate at the adjacent Methodist Church would be to create a fire hazard but unless something is done someone along the Whitewell Road will be killed".
Meanwhile sectarian tensions in North Antrim remain high after two Catholic churches in Ballycastle and Bushmills were targeted by loyalists. The Church in Glenshesk near Ballycastle suffered smoke and fire damage after intruders started a fire in the sacristy last Tuesday 18 July. In a second attack, on Saturday 22 July Bushmills Church had a tar-like substance thrown over the front of the building.
It has also emerged that a teenager who witnessed the killing of 15 year old Michael McIlveen in Ballymena in May is under threat. 16 year old Christopher Graham's parents took their son out of school in June after the PSNI warned them he was at risk of attack.The teenager's father Danny said he feared for his young son's safety after the warning and after his 27 year old son Paul was badly beaten by loyalists close to where Michael McIlveen was attacked.Graham said that his family gave the PSNI witness statements about the McIlveen killing and since then, "they [the PSNI] have left us on our own".
UDA gang behind Derry sectarianism
A community activist involved in monitoring the Fountain 'peaceline' in Derry has told An Phoblacht that the UDA is behind the catalogue of attacks on nationalists in the city in recent months. These revelations come as 29-year-old Paul McCauley fights for his life in Belfast's Royal Victoria Hospital after being savagely beaten by a loyalist mob in Derry in the early hours of Sunday morning 16 July.
According to the activist a well known UDA man, originally from the Waterside area of Derry, moved into the Fountain Estate and moved a number of other men - originally from Scotland - into the estate with him. This man, whose name has been given to An Phoblacht, has been seen at the scene of a number of attacks yet the PSNI have taken no action against him or his gang.
We have also been told that the man and two accomplices were arrested by the PSNI at Horace Street, which runs off the Fountain Estate, armed with iron bars, gloves and masks yet no action was taken against them.
Paul McCauley suffered serious head wounds after he and two friends were set upon by an eight strong loyalist gang as they attended a barbecue in the Chapel Road area of the Waterside. The gang launched their attack, which has been described as "attempted murder" from the loyalist Irish Street estate and as they escaped afterwards witnesses said they were laughing.
During the incident McCauley was beaten to the ground where he was repeatedly kicked, suffering a fractured skull. Speaking to the media McCauley's father Jim said that his son died clinically twice in the aftermath of the beating and had to be resuscitated by medical staff.
Of the two men attacked with Paul McCauley one, a disabled man suffered a broken jaw and was also treated in hospital for cuts and bruising to his body.
The attack on Paul McCauley was the most serious in a litany of sectarian attacks carried out by loyalists in Derry in recent months.
Between June and Thursday 13 July upwards of 15 incidents attributed to loyalist gangs have been recorded across Derry by community workers who have been working to stop trouble at the Fountain/Bishop Street interface.One of those assaulted was a community activist who intervened to prevent a number of young nationalists being attacked by loyalists. The loyalists turned on the 38 year old and struck him with a baseball bat, breaking his arm.That attack occurred on 24 June. An English visitor was set upon by a 15 strong loyalist gang earlier that day. The gang escaped into the Fountain after the attack.
Speaking to An Phoblacht the community activist stressed that it is only a minority of people living in the Fountain who are responsible for the sectarian violence.
"Most of the residents are elderly and do not want the violence but the UDA, for whatever reason, are intent in stirring up trouble".
Sinn Féin's Peter Anderson said that on two occasions eyewitnesses to assaults offered to accompany the PSNI and identify the assailants but the PSNI refused.
He also pointed out that incidents occurred within range of cameras in the British Army's Masonic Hall base yet the attackers seem able to act with impunity.