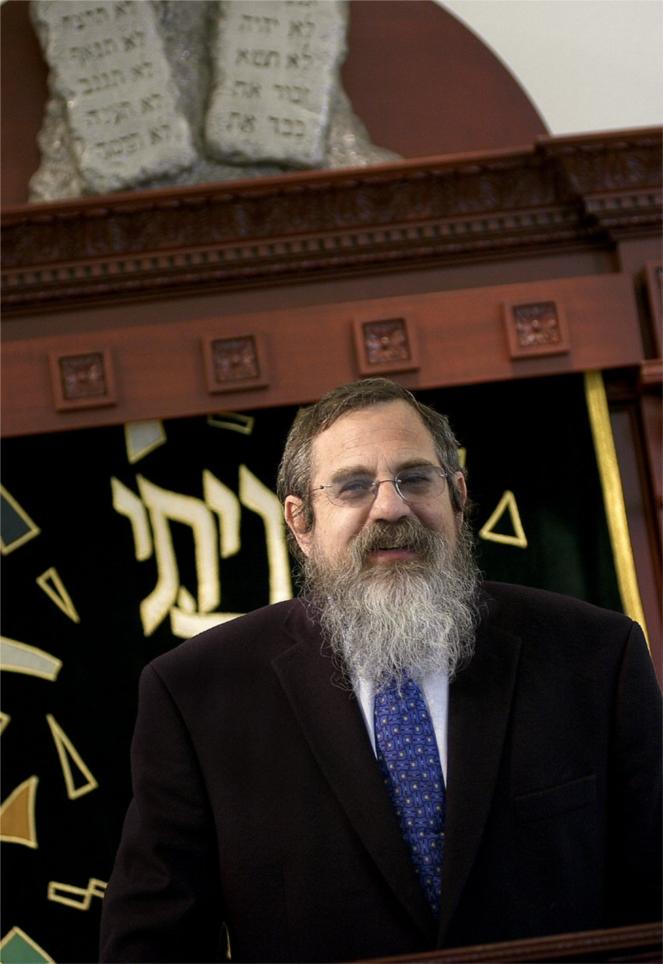 Last week I published a
story
about Jews and others demonstrating at a Kosher slaughter house in Postville Iowa accused of mistreating its immigrant workers.

Now comes the news that a few days after that demonstration on July 31, a group of 25 Orthodox rabbis and community leaders visited the Agriprocessors slaughterhouse in Postville, Iowa and declared the plant was clean and the workers happy.

One of those in the group, Chabad Rabbi David Eliezrie (pictured here), President Rabbinical Council of Orange County writes in a letter to the Indianapolis Star, "We found a state-of-the-art plant; workers receiving fair wage and benefits such as health, dental and vacation pay; great attention to worker safety; and the use of the e-Verification system to ensure all workers are legal."

Give me a break. Everyone from other Rabbis, to the National Labor Relations Board, to a wide variety of Jewish publications, local Catholic Churches, immigrant rights groups, and on and on have found what Rabbi Eliezrie and his buds say to be a joke. Even a federal government warrant that paved the way for a notorious anti-immigrant raid on the plant in May detailed numerous abuses inside the plant.

As the Jewish Forward wrote this week, "...investigations have produced a long list of allegations against the company, including that it employed underage workers, that insufficient safety training led to workers being injured and maimed, and that workers were underpaid."

Just days after the Orthodox Rabbis visited the plant the Iowa labor commissioner referred 57 allegations of child labor violations to the state attorney general, calling the violations "egregious" and recommending they be prosecuted "to the fullest extent of the law."

But somehow this group of Black Hats found everything A-Ok. Of course, I must point out, the entire junket was paid for by Agriproccessors.

Ben Harris of the Jewish Telegraph Agency reports:


"…In the eyes of the company's critics, and even some Orthodox rabbis, the fact that Agriprocessors paid for the trip rendered the rabbis' conclusions suspect. Neither of the national council's two news releases regarding the trip disclosed that Agriprocessors had footed the bill for the rabbis."

"If they're going and being paid by Rubashkin (plant's owner), then that should be forthrightly disclosed," said Maury Kelman, a lawyer and Orthodox rabbi who has led congregations in Israel and New York."

Kelman said Jewish law, or halachah, insists that rabbis involved in such matters do everything to avoid even the perception that their judgment could be compromised."

"It's very important if rabbis are going that things look totally above board, and that it's 100 percent clear that the desire is to do the right thing and not just the expedient thing," he said. "If somebody's being paid, you're beholden to them. Halachah is very clear about this."'

As I said of the family who ran the plant in my last articles, I say about this group of Orthadox misleaders, "They should be ashamed."'

The Forward reports:


"Some in the Orthodox community are calling for a more rigorous investigation. On July 30, one day before the Orthodox leaders visited the plant, Rabbi Shmuel Herzfeld of Washington's Ohev Sholom — The National Synagogue, sent a letter to Rabbi Basil Herring, executive vice president of the Rabbinical Council of America, which is the largest organization of Orthodox rabbis. Herzfeld demanded that the RCA commission "a transparent, independent investigation" into the charges against Agriprocessors."

"We need a commission with incredible stature and with rabbis of great merit who can spend a few weeks or a month [in Postville] and can make recommendations," Herzfeld told the Forward. Herzfeld, who is a member of the RCA, said that the recent trip to Postville was too short and that Agriprocessors' sponsorship of the trip compromised the findings."

Herring declined to comment on the letter specifically, saying that it was a private communication. He said that the RCA lacked the resources, expertise and powers to conduct an appropriate investigation into the allegations and that it made more sense to wait for federal investigations to run their course."


Rabbi Herzfeldu wrote this week in an op/ed piece in the NY times,


"Unfortunately, the responses of the leading Orthodox organizations, the Rabbinical Council of America and the Orthodox Union, have, in my opinion, fallen far short of what is needed to be done and have done little to diminish the extent of the desecration of God's name. I am a member of both groups, but I am dissatisfied with their stance, which asks us to sit back patiently and wait for the results of a federal investigation. On some level, this might be prudent, but on another it is unacceptable."

"Hebrew National (the folks who made the hot dogs, etc) used to run a commercial that said: "We answer to a Higher Authority." Well, we do. We need to express shame and embarrassment about the reports coming out of Iowa, and we need to actively work to change these matters. Then we should ask ourselves if our behavior and our values need improvement. Only if we truly think about these issues will we truly be keeping kosher."

A point of personal disclosure: As a vegetarian and just another animal on this planet, I've no use for slaughterhouses in general.

The following is from the Jewish Daily Forward.

Judging Character — And Kashrut
Editorial

The Babylonian Talmud features a lengthy, oft-quoted discussion of the liability incurred by an individual whose ox gores another person's livestock. If the ox has never gored before, the owner may claim it was an unforeseen accident and pay only half the injured party's losses. Likewise for the second and third offense. With a fourth attack, however, the ox is deemed mu'ad, or "forewarned." The owner is then fully liable. He can no longer claim he didn't know.

The lesson of the recidivist ox is one of the first and most memorable taught to schoolchildren when they begin their Talmud studies. The narrative is easy to follow, and the moral is clear-cut. It teaches, or should teach, that individuals are responsible for their actions — not just in principle, but also directly and quantifiably liable; not only for what they do, but also for what they fail to do and what they fail to anticipate. No one may traffic with a mu'ad and claim not to have known.

A memorable lesson for most, but seemingly forgotten by the distinguished rabbis and communal functionaries who paid a quick visit last week to Postville, Iowa. They had come to inspect the controversial kosher slaughterhouse owned by Agriprocessors, Inc., which faces widespread allegations of abusive and dangerous working conditions. The rabbis spent three hours touring the plant, met briefly with local Christian clergy and social activists, and gave the operation a clean bill of health. They found no evidence, as one rabbi put it afterward, to suggest that "someone should not buy things from Agriprocessors."

Well, no — not based on what you might find in a three-hour walkthrough arranged and paid for by the company. But that's not enough. When your target is mu'ad, you have to consider the whole record. And Agriprocessors and its owners are most assuredly mu'ad.

A three-hour tour could not uncover the extensive, "egregious" child labor
violations that the Iowa state labor commissioner reported to the state attorney general just five days after the rabbis left town. The labor commissioner said he had "never seen anything like it" in his 30 years in the field, according to JTA. He recommended that the allegations be prosecuted "to the fullest extent of the law." But it took him months to gather the facts. Three hours wouldn't suffice.

Three hours wouldn't turn up the voluminous evidence of abuse gathered by the Forward when we first broke the Agriprocessors story two years ago. We found compelling indications of sexual harassment, shorted wages, favoritism and bribery in work assignments, inadequate safety training and horrific work accidents in the place we called a "Kosher Jungle." But our reporter spent a week in Postville, interviewing current and former workers, merchants, officials and community leaders. He visited homes and viewed pay stubs, rent receipts and food and medical bills. Our staff spent months more on the phone with federal and state officials, academics, food industry experts and others. It took us more than three hours.

If the rabbis didn't want to believe us, they could have consulted the public record — the archive of complaints brought and fines imposed on the company by state and federal authorities, year after year, for health, safety, food contamination and environmental pollution violations.

Well, we are reminded, meatpacking is a notoriously messy business. That's true. What's different about Agriprocessors is the sheer scope and scale of it all. The immigration raid last May, mounted by 16 different federal, state and local government agencies, was described by authorities as the largest such raid ever mounted against one firm. The child labor charges reported this month are described by officials and experts as unusual if not unique in scale for a single firm. And so it goes, in one category after another.

This is a company that is, by any reasonable standard, what the Talmud would call mu'ad.

This newspaper has been roundly criticized in the past two years for supposedly mixing apples and oranges — questioning the company's kosher certification because of its behavior in areas unrelated to the dietary rules. But they're not unrelated. As Rabbi Shmuel Herzfeld wrote in The New York Times last week, character is critical in judging kosher food. If a supervisor or operator routinely violates some essential religious laws, how can he be trusted to enforce other laws? Restaurants and butcher shops in this country cannot receive Orthodox kosher certification if they do business on the Sabbath. Hotels in Israel lose their certification if they host unapproved forms of entertainment. Character counts, not just precision slaughtering.

The rabbis who visited Postville appear to disagree. They concluded, judging by their public statements, that the facility passes muster. That is, whatever allegations may have been made, they do not merit serious attention — nothing deeper than a quick walkthrough. They said, in effect, that this is an ox without a record.

But there is a long record. Agriprocessors is one of a network of businesses owned by the Rubashkin family, a large, tight-knit clan identified with the Lubavitch community in Brooklyn. The operations, like the family, may be considered a package.

The family patriarch and company founder, Aaron Rubashkin, came here from the Soviet Union in 1945 and opened a kosher butcher shop. In time the shop became Agriprocessors, the country's largest — and dominant — kosher meat producer, run for many years by Aaron's son Sholom Rubashkin.

While Sholom ran the meat business, his brother Moshe operated a string of ventures, mainly in textiles and real estate, mostly in partnership with other relatives. One of the most colorful was a textile mill he ran in Allentown, Pa., but closed in 2000. A year after shutting it down, Moshe was convicted of failing to obtain workers' compensation insurance after a former employee was denied benefits. While on probation, he ended up with a conviction for bank fraud due to some checks that he wrote. He was sentenced to 15 months in federal prison and got out on parole in 2005.

Shortly after release, he was elected president of the Crown Heights Jewish Community Council, a government funded agency closely controlled by the Lubavitch community.

Meanwhile, the plant in Allentown was gathering dust and debts. It owed $200,000 to the Environmental Protection Agency for cleaning up hazardous chemicals housed there, and was about to be seized by the city for back taxes, according to public records. In April 2005, the plant was heavily damaged in a fire that was ruled arson. Three more fires, still unexplained, finished it off over the next few months. Chemicals that were stored on site caused the fire to blow out of control, allegedly endangering firefighters. In 2007, Moshe was convicted of illegally housing hazardous chemical waste, while his son Sholom — nephew of the Postville executive — was convicted of lying about who owned the property. They await sentencing.

Back in Postville, the elder Sholom was facing questioning in connection with another alleged arson-fraud scheme. Beginning in the late 1990s, Agriprocessors began receiving payments from a Brooklyn pharmaceutical firm, some $3 million, in return for which the meat company provided, Sholom said in a deposition, "nothing." The Brooklyn firm, Allou Distributors, declared bankruptcy in 2003, shortly after its warehouse burned down. Prosecutors suspected that the owner, Herman Jacobowitz, a member of another Hasidic community, had been laundering company funds; the payments to Agriprocessors were suspected of being part of the scheme, according to The Des Moines Register. Jacobowitz was eventually convicted of trying to bribe a fire marshal to declare the fire an accident rather than arson, and sentenced to 15 years in prison. Agriprocessors agreed to pay $1.4 million in civil restitution but was never charged criminally.

One of the most telling judgments passed on the family was rendered way back in 1995 by the National Labor Relations Board. Moshe and father Aaron owned a textile firm in New Jersey that was found guilty of deducting union dues from employees' paychecks but failing to hand over the money to the union for at least three years running, a violation of the National Labor Relations Act. The administrative law judge who ruled against the Rubashkins recommended that their attorney be suspended for his behavior in delaying the case. The board itself, hearing the case on appeal, commented in its ruling that the "Respondent" — named in documents as the textile firm and its owners — "has a proclivity for violating the Act and has previously been found to have engaged in identical conduct."

That, it appears, is the government's way of saying they are mu'ad.

The question that must be answered now by inspectors and consumers of kosher meat is what standards should be applied in measuring character — specifically the character of an actor entrusted with supplying most of this nation's kosher meat — and just how hard to look.