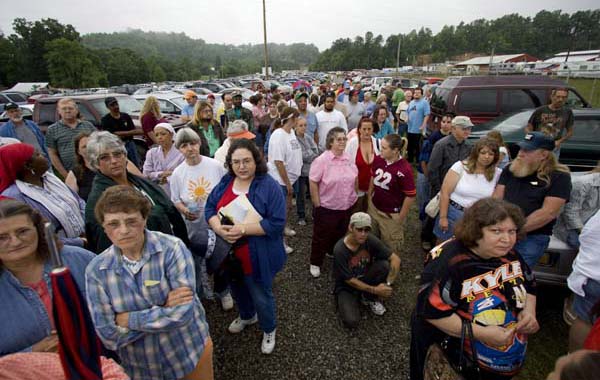 Take a look at what is going on with healthcare in America. Take a look at the country fairgrounds in Wise Virginia. Take a look at what happened when a group of volunteer healthcare workers showed up to offer a three day free health clinic. Take a look and get pissed.

From as far away as Indiana came the uninsured poor seeking the help of volunteers, including doctors, dentists, nurses, optometrists and medical technicians. The annual Remote Area Medical Health Expedition, or RAM was in town.

To some area residents, RAM's very existence is an embarrassment and an indictment of the medical system.

"We need to put RAM out of business -- to fix what's wrong down here instead of having hundreds of people come in to rescue us once a year," said Elizabeth McGarvey, associate professor of public health sciences at the University of Virginia School of Medicine who is researching health issues in Appalachia Virginia.

She recoils at the long lines of RAM patients, including many children and people in wheelchairs, who camp out, often sleeping in their cars, during the three nights of the clinic in order to be among the first admitted.

"It's like something out of the Third World," McGarvey said.

The crowd she sees began lining up in the wee hours of Friday morning for a coveted spot inside the fences at the Remote Area Medical clinic. Some would wait days for the free service. Some would never get in.

For the majority though, organizers and doctors said, this would be the only time all year they would get medical treatment of any sort.

This year, more than 1,800 volunteer doctors, dentists, nurses and assistants descended on the small town near the Kentucky border, setting up enormous field-hospital-style tents in which they saw more around 3000 patients over the course of two and a half days in late July.

RAM is a non-profit, volunteer relief corps that provides free dental, eye and veterinary care to the underserved of the world. Volunteers also collect supplies, medicine, facilities, and more.

The majority of those who come to the RAM clinics in America have jobs; they simply cannot afford health care.

When RAM came to Knoxville, Tennessee, in January, people started arriving at midnight, even though the doors did not open until seven -- and temperatures dropped below freezing that night.

How is it that in the United States of America thousands of people in a small town in Virginia or a not so small city in Tennessee are forced to depend on a volunteer "MASH" unit which comes to town maybe once a year for their healthcare? What sort of a country is this where people who have worked hard all their lives have as their only healthcare option something like this?

One of these hard working folk is Charles Sizemore, a 68-year old retired machinist from Wise County. He got in line at the Wise County Fairgrounds about 2 a.m. for a basic physical and to get two fillings replaced.

Sizemore raised four children in the area but never had health insurance until he got Medicare when he retired three years ago.

"I wanted to," he told journalist Louis Llovio, leaning against bleachers where patients were being registered as the sun rose over the mountains. "There just wasn't enough money. I had to take care of my family, and I never made more than $10 an hour."

Turning serious, Sizemore said, "I don't mean to be ungrateful. I'm glad RAM comes out and does this. But it's just damned sad that this is the only time most of the people around here are going to see a doctor. It's a damned shame."

Forget the statistics, this story and the pictures tell it all.

The following is from Flesh and Stone (blog).
"It's like something out of the Third World"
Thousands of uninsured people lined up at a county fairgrounds in Wise, Virginia, to wait for health care services from volunteer doctors, dentists, nurses, optometrists and medical technicians during a 3-day free health clinic. Numerous citizen groups are crisscrossing the country this summer to demand reform of the U.S. system.
In its July 26 coverage of the ninth annual Remote Area Medical Health Expedition (RAM) the Roanake Times ran a story and photos and reported that many camped out at the fairgrounds the day before the free clinic opened to ensure they would be seen by health care professionals. "It's like something out of the Third World," said an associate professor at the University of Virginia School of Medicine.
Over three days medical staff provided free care to 2,670 patients, valued at $1.7 million, surpassing the 2,506 served at the same location in 2006.
RAM also has free clinics scheduled in Tennessee, where it is based, as well as in Kentucky, Louisiana and internationally.