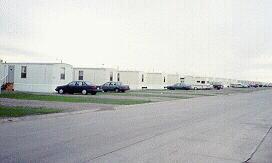 This could be the first Oread Daily public service announcement...or not.

The following is from the Sierra Club.
Toxic Trailers?
MORE THAN 100,000 PEOPLE WHO LOST THEIR
HOMES IN KATRINA ARE NOW HOUSED IN
FEMA TRAILERS IN MISSISSIPPI AND LOUISIANA. THIS
EMERGENCY HOUSING IS PROVIDED AT GREAT COST TO
TAXPAYERS--AN AVERAGE OF $65,000 FOR 18 MONTHS.
BUT IS IT HEALTHY AND SAFE?
There is evidence of high formaldehyde levels in FEMA trailers.
Formaldehyde is a colorless, strong smelling gas that is likely to be
present as a result of pressed wood products such as particleboard
made using adhesives that contain urea-formaldehyde resins. The
formaldehyde "outgasses" into the air as the building materials cure.
Sierra Club has begun testing the indoor air in the trailers to see
whether formaldehyde levels exceed safety limits. Of 31 FEMA trailers
tested thus far by Sierra Club, only two tests were at or below the
.1 ppm maximum safety limit recommended by EPA and the
American Lung Association. Several trailers were more than three
times over the limit.
Residents of FEMA trailers tested by Sierra Club reported problems
such as burning eyes, irritated throat, sinus congestion, respiratory
problems, persistent coughing, rashes and nose bleeds. These are
known symptoms of formaldehyde poisoning (See http://www.lungusa.
org/site/apps/s/content.asp?c=dvLUK9O0E&b=34706&ct=671
18). Two FEMA trailer residents, Paul and Melody Stewart of Bay St.
Louis, did testing that revealed formaldehyde levels twice what is recommended
by EPA even though they had all their windows open and
the vent fans running during the test. The Stewarts abandoned their
FEMA trailer rather than continue to have immediate health problems,
and the possibility of getting cancer in the future as a result of
their exposure (see http://www.wlox.com/Global/story.asp?s=4643952).
According to the U.S. Consumer Products Safety Commission
(http://www.cpsc.gov/cpscpub/pubs/725.pdf ), formaldehyde has
been observed to cause cancer in laboratory animals and may cause
cancer in humans.
Sierra Club testing has shown that storm debris in areas flooded by
Hurricane Katrina had high levels of arsenic and other heavy metals
in addition to very elevated levels of bacteria such as E. coli, salmonella,
staphylococcus, yeast and mold in many areas (see www.sierraclub/
gulfcoast/testing. There has also been significant air pollution
from open burning. The last thing Katrina survivors need in addition
is to be exposed to toxic indoor air from their FEMA trailers.
The Sierra Club testing should be followed up with more comprehensive
testing done by FEMA. Immediate action should be taken
to address the problem. There are ways to prevent formaldehyde
outgassing in manufactured housing, and the government should
require any contractors that sell trailers to FEMA provide homes
that are safe and healthy for the occupants.
The Sierra Club recommends that anyone living in a FEMA with
symptoms of formaldehyde poisoning consider the recommendations
below to reduce exposure. Residents should report the problem
to FEMA maintenance (see number below). Residents may also
purchase their own test kits.
What Should Be Done to an Area with Elevated
Levels of Formaldehyde:
Residents of FEMA trailers with concerns about indoor air
quality problems should call FEMA service maintenance at
1-866-877-6075.
Air out the trailers by providing as much ventilation as possible,
especially when the trailer is new. Some FEMA trailer residents are
trying to cover up the formaldehyde smells with air fresheners. This
will not reduce your exposure. A better alternative is to use fans to
ventilate as much as possible while asking FEMA to fix the problem.
If you are experiencing problems, limit the amount of time you
spend in the trailer. If possible, spend part of the day outdoors, at
public facilities such as library or recreation centers, or at the homes
of friends and relatives.
According to the American Lung Association, some studies suggest
that coating pressed wood products with polyurethane may reduce
formaldehyde emissions for some period of time. "To be effective,
any such coating must cover all surfaces and edges and remain
intact," the American Lung Association suggests. "Increase the
ventilation and carefully follow the manufacturer instructions while
applying these coatings. Maintain moderate temperature and
humidity levels and provide adequate ventilation. The rate at which
formaldehyde is released is accelerated by heat and may also depend
somewhat on the humidity level. Therefore, the use of dehumidifiers
and air conditioning to control humidity and to maintain a moderate
temperature can help reduce formaldehyde emissions."

What does the cost of the kit include and where
can we get them?
FORMALDEHYDE TESTING KITS MAY BE ORDERED FROM:
Advanced Chemical Sensors, Inc.
3201 N. Dixie Highway
Boca Raton, FL 33431-6056
Phone: (561) 338-3116
Fax: (561) 338-5737
Cost: $34/kit
Once you collect the sample, you send it back to Advanced Chemical
Sensors in the container provided. Analysis is included in the cost of
the kit. You will receive results in 48 – 72 hours. Results will be
either faxed or mailed to you depending upon your preference.