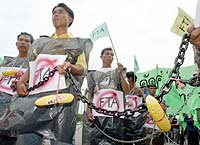 The
Bangkok Post
reports that that the Thai-US free trade area (FTA) talks were forced to halt for a while today after about 500 protesters managed to get past 2000 police and enter the hotel compound where the talks were being held.
Outside nearly 10,000 others rallied in the streets for a second day.
The 500 protesters, most of them from HIV/Aids groups, vowed to make their way to the meeting rooms to prevent negotiations on drug patenting and other intellectual property rights issues.
Small clashes with police were reported from around the site.
One group of protesters opposing the Thai-U.S. FTA pact and gathering at Chiang Mai's Sheraton Hotel, the venue for the talks, swam across the Mae Ping River, trying to approach the back of the hotel located alongside the riverbank. They were blocked by police units about two meters away from the hotel compound. Sporadic clashes lasted for several minutes but caused no injuries and the police were successful in keeping control of the situation.
Another group of some 300 protesters prostrated themselves on the street on the way to the meeting venue, praying for sacred spirits to protect the country from the FTA.
"It is crucial for us to stop the negotiations, because our lives are at stake," Nopparat Sa-ngiemjitr, from an HIV/Aids group in Chacheongsao province told
Nation
. "We are fighting against drug patenting with our lives. I know I might get arrested or injured in clashes with police, but we are all willing to face that, because we have more to lose if the talks succeed."
An observer said that if the protesters managed to stop the FTA negotiations in Chiang Mai, it would be only the second time since the WTO ministerial meeting in Seattle was scuttled in 1999 that a free-trade negotiation had been disrupted.
Thai chief negotiator Nitya Pibulsonggram said he was ready to listen to their concerns and suggested the protesters list them in writing.
The protesters, however, were not satisfied and insisted the FTA negotiations be scrapped.
''Thank you very much Mr Nitya for coming to meet us. But what you said to us means that you have never listened to our concerns. We have used all channels to express our voice. But unfortunately you have not heard us,'' said Nimit Tienudom, director of
Aids Access Foundation
.
In Loei, where he was attending a cabinet meeting, Prime Minister Thaksin Shinawatra told the Thai delegates in the FTA negotiations to put national interests first and listen to protesters' suggestions.
''If a deal puts the country at a disadvantage, we'll not sign it. And we'll listen to the complaints of the protest groups,'' said Thaksin.
Many say that the FTA will certainly be "disadvantageous."
''Thailand stands to lose much if the FTA with the U.S. is signed,'' Saree Ongsamwong, general secretary of the
Foundation for Consumers (FOC
), a non-governmental organization (NGO), said in an interview. ''It will increase poverty among the small farmers in the provinces.''
Thai farmers took a beating following similar bilateral trade deals that the government of Prime Minister Thaksin Shinawatra signed with China, Australia and New Zealand.
Cheaper imports of garlic and onions from China have put 40 percent of Thai farmers out of business, Witoon Lianchumroon, coordinator of
FTA Watch
, told reporters on Thursday. ''About 50,000 farming households have been affected.''
Likewise, an estimated 100,000 Thai farmers who raised cattle for meat have been unable to compete against cheaper imports from New Zealand that followed the Thai-New Zealand FTA agreement.
Witoon estimates that nearly 6.5 million farmers will be affected if Bangkok signs a similar trade deal with Washington, resulting in U.S. agriculture products flooding the local markets.
Proposed changes would not only mean a possible loss in income for Thais farmers but also possible loss of lives among Thais living with HIV/AIDS who depend on cheap, locally-produced generic anti-AIDS drugs.
''The government's policy to provide cheap drugs for people with AIDS will be threatened with this FTA,'' says Kamol Uppakaew, chairman of the
Thai Network of People Living with HIV/AIDS
. ''Those who need the new line of drugs will not be able to get it because the price will be too high, 20,000 baht (500 dollars) per month.''
Currently, the Thai government's universal health care program supplies generic anti-AIDS drugs to nearly 100,000 people who need medication. In all, there are some 670,000 people with HIV in this country, where over 300,000 people have died from AIDS-related causes since the pandemic was first detected in the 1980s.
According to the activists, the planned FTA with the U.S. would make it difficult for the state-run pharmaceutical agency to produce the new line of anti-AIDS drugs because of the position Washington is taking over intellectual property rights.
The U.S. wants to enforce a 25-year period to protect patents for drugs as against the 20-year patent protection that is the case under the existing global free trade rules.
Street protests are the only avenue open for opponents of the FTA, since the Thai government has shrouded its policies in secrecy, says
FOC's
Saree, whose group belongs to a nationwide coalition of anti-FTA NGOs, called
FTW Watch
. ''There has been no public debate and the government has refused to listen to our concerns.''
''This agreement is like putting people on an express train heading towards a disaster,'' adds Witoon. Sources: Spero News, Xinhua, Nation (Thailand), Bangkok Post