It is Theoretical Monday here at Scission. With the situation heating up in the Ukraine, and unending, often uninformed debate tearing apart the left, I am going boldly...somewhere else entirely.
Today's piece dives into the brain, into the question of how human's make history, into the too often misused world of science, neurocapitalism, and with a little Karl Marx thrown in for good measure.
I ran across this rather tasty morsel in an odd way. Here is the short history lesson. After I got out of prison in the 70s, the government believed I needed a better life plan than the one I was operating on (I had told them I was going back into the printshop). I guess they had something against offset presses or something. So, I tried to find something that would satisfy them in the shortest amount of time and with the least pain possible. Thus, it was back to school I went for a couple of years. I ended up with a Counseling degree, mostly because I could work a real job, get a student loan, and finish off the thing in two short years. I can't say I have ever used the thing since. In the midst of it all, I once wrote this lengthy paper on Soviet Psychology (of course, I did). Well, a couple of weeks ago I ran across on ye olde Web this women by the name of Hannah Proctor who has delved into that topic much, much deeper then I ever considered. Turns out she is a rather interesting woman. Her twitter account is worth checking out. Lots of fascinating stuff there, some of it much less academic then elsewhere. The New Inquiry describers her like this:
Hannah Proctor writes about revolutionary psychologies, neuronal ideologies and communist brains. She is working on a PhD on Soviet psychology and neurology at Birkbeck College, University of London.
At Academia.edu her research interests are listed as Marxism

,

History Of Psychology

,

Feminism

,

Russian History

,

Soviet History

,

Critical Theory

,

Queer Theory, Continental Philosophy, and Psychoanalysis. Hmmm.
At a conference last year in Chicago (
From the New Socialist Person to Global Mental Health: the Psy-ences and Mental Health in East Central Europe and Eurasia), Dr. Proctor
gave a scheduled presentation typical, I think, of the subject matters that seem to interest her most and which relates to the article I am posting below.
The Center for East European and Russian/Eurasian Studies at the UNIVERSITY OF CHICAGO (CERES) described it this way:



Hannah Proctor's presentation reflected on history as a tool to critique the present. Coming from a perspective of "critical neuroscience" she stressed that history provides the means to denaturalize the current moment and thereby enable imaginations of alternative futures; a project she deemed particularly pertinent in the face of a contemporary neuroscience that produces a conception of the human consciousness that is largely ahistorical and depoliticized. In contrast with this conception, she drew on the work of Lev Vygotsky, a Russian psychologist of the 1920s and '30s, whose work, she argued, could provide an alternative paradigm as it situates human consciousness as emerging in a social and historical context. Vygotsky's original aim to bridge the dynamics between materialism and idealism, between object and subject through a "dialectical psychology" provided Proctor with an angle from which to question the contemporary object-centered neuroscience, and what she perceived as an equally apolitical social science (i.e. actor-network theory) that erases the distinction between object and subject. Instead, Proctor insisted on the importance of maintaining a political subject that has the capacity to resist domination and articulate radical critique, which to her also meant insisting that the world can still "consciously be altered".



If none of this interests you in the least, you might still read the following from MUTE. There might be something there worth checking out. You never know. If nothing else it might help in the fight to keep your brain active...Again, you never know...
Oh, I should mention the co-author.
Michael Runyan recently completed an MA at the Centre for Cultural Studies, Goldsmiths, University of London. He lives in Berlin...and that's alls I knows about him.
CHANGING OUR MINDS: A JOURNEY TO THE CENTRE OF THE BRAIN
By Hannah Proctor & Michael Runyan

,

4 February 2014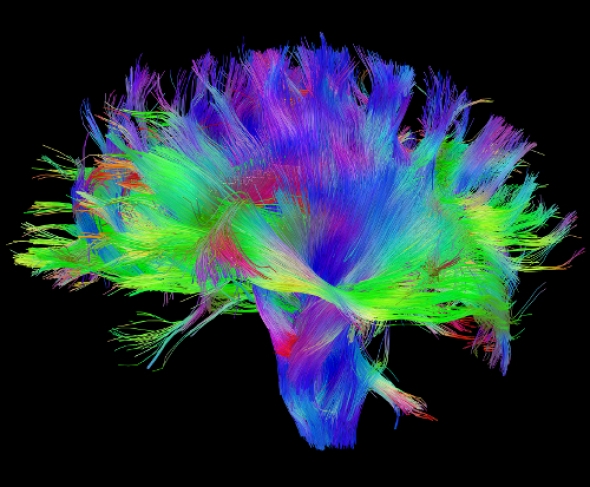 Image: From the Connectome project, grounded in recent developments in MRI technology which allow for non-invasive
visualisation of the anatomical connections between different parts of the brain
The increasing dominance of neuroscientific models as explanations of human behaviour can be seen as an important aspect in the trend towards individuation identified by Gilroy. By depicting human actions and desires as subtended by a material substrate, neuroscientific explanations participate in consolidating an ideological position that downplays historical contingency and human agency. The materiality of the brain is emphasised at the expense of the materiality of the world; a strange form of ahistorical materialism emerges. Neuroscientific arguments can provide extra ammunition for the already established tendency to de-contextualise events that threaten to disrupt the hegemonic order. And cloaked in the presumed neutrality of science, they often go unexamined.
After the launch of Google Street View, images circulated online of apparently incongruous things that appeared on the site. This meme derived its humour from the assumption that Street View depicted bizarre things that had no place on a map. But naked dancing, fires, parades, weddings, political protests, arrests and fast-food promotions requiring employees to dress-up as chickens happen, their exclusion from conventional maps is a limitation of that technology.
But now we are apparently closer to this mastery. Our brains are frequently represented as areas of colour melting into one another, rendered not in paint but liquid crystal. Glance through the magazines in any airport lounge or scroll through the news pages and you will encounter any number of these images: bright blotches emerging from a stark grey background like pools of lava or patches of lurid foliage on a mysterious and hostile planet. That red section on the left or green spot on the right signifies what happens when you participate in a riot, read Keats, tell a lie, choose a new washing detergent, dream, or take too much ecstasy.
Just as Bunge pointed to the limitations of conventional geographical maps, it is important to recognise what such images elide, to note the contexts in which they are deployed and to ask why and by whom they are being produced.
The question of the entanglement of neuroscientific methodologies and findings with the capitalist economy remains to be adequately posed. Crucial to this question is the reliance of neuroscientific research on economic structures and political institutions. As Martin Hartmann declares:
Research methodologies reflect political and social categorisations, and the results of that research can be harnessed for various ends.
$50 million of the $100 million being pledged for the BRAIN initiative will come from DARPA (Defense Advanced Research Projects Agency). The only part of Obama's speech pertaining to military applications of neuroscience was a reference to helping veterans with PTSD. This, of course, is already value-laden – focusing on ameliorating the effects of supposedly inevitable trauma rather than protesting at the violent events that produce traumatic responses in the first place – but neuroscientists are also involved in research aimed at enhancing performance on the battlefield, controlling weapons in new ways, and on monitoring, torturing and attacking the enemy. Neuroscience might indeed provide new and important methods for healing people, but it might equally facilitate surveilling them, profiting from them or even killing them more effectively.
It is a familiar story: in a world of abundant information our ability to process it all is apparently diminishing. We are overwhelmed by stimuli, glued to our screens, scrolling wildly between tabs, constantly switching interfaces, dreaming in Tweets, sucking in information in ever tinier chunks. It is all too much, too fast. We are saturated. The more we are connected, the less we connect. We are exhausted yet we cannot sleep. We can no longer concentrate, reflect, understand. We are even, Berardi insists, incapable of love. Our brains are re-wired by this constant information assault but they begin to crack under the pressure to accelerate. New pathologies and their attendant acronyms – ADD, PTSD, ADHD, etc – proliferate.
Berardi does align psychological with economic crisis, but he focuses on the psychologies of the speculators themselves, wired up on Adderall in some Manhattan skyscraper. This recalls Bloch's comment about the Viennese bourgeoisie who rarely needed to think about their stomachs. The mental well-being of many people will certainly be impacted by the experience of economic crisis, but more likely those who get left behind than those with the luxury of being able to keep up. Berardi does not question the new categories for understanding psychological suffering, treating them as transparent descriptions of new forms of psychological experience rather than ideologically mediated. Obfuscating the economic and social explanations for particular forms of behaviour, such descriptions place the onus on individuals to adjust to the world, rather than suggesting that the world itself might be the thing that needs changing.
But these intrepid adventurers, like the vaunted scientific-discoverer, are isolated individuals on solitary quests. Instead, perhaps the vast and unmappable terrains of the imagination, spilling out from our minds into the world, might be explored collectively. We need to challenge a scientific paradigm that treats humans as biologically determined, isolated entities who are governed by the chemicals in their heads. Of course, it might be the case that when we imagine something synapses fire in a certain region of our brain, but in what way does knowing that really help us to create new worlds (or to destroy existing ones)?
Aesthetic Education Expanded attempts to open up an understanding of what is being done within and against capital's massive assault on thought and action, whether in reading groups or on the streets of a world torn between self-cannibalisation and revolt.