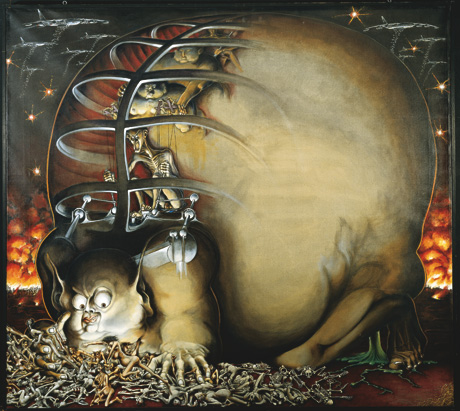 CAPITALISM AS BARBARISM
When was the last time I posted a Newsweek article in Scission? Well, never as far as I know would be the correct answer. That is about to end.
Capital itself is about one thing really...accumulation of more capital (and exploiting labor and making someone else wealthy as a result). Nowhere is this more clear than in the rush to employ German Nazi thugs after WWII by both private capital and State capital
(and the State, as well)
, big capital and little capital. Who cares if these suckers are mass murders and architechts of genocide? Who cares if they performed hidous medical experiments on human beings? Who cares if they actually carried out policies of eugenics?
Where is this lack of any sense of morality, of humanity, of ethics, of anything decent any more clear then in the case of one small privately owned company called Chemie Grunenthal...a company that managed to unleash a holocaust all its own on the world.
I am old enough to remember thalidomide and I am old enough to remember that the story you are about to read today certainly wasn't told back when. Wouldn't have been prudent...might have called attention to what was happening at bigger companies...might have called attention to what was happening in the missle program of the USA...might have made capitalism look like an institution of barbarism, not civilization. It is one thing to report the story of a rogue drug and show some images of what it has done. It is another to ask how did this thing happen, really, and what does it say about the economic system revered by so many.
It is easier for the corporate media to tell that story today, half a century later when the immediate horror of the atrocity committed has been largely forgotten or even unknown by most.
So yeah, it is from Newsweek, and even today they are not going to present you with an in depth analysis of the full meaning of the story itself. That still would not be prudent. However, I trust the readers of Scission can figure out why I decided to post this most disgusting story here today.
The story may be half a century old, but the STORY is still the same.
I am passing this along via The Daily Beast.
The Nazis and Thalidomide: The Worst Drug Scandal of All Time


Revelations of their connections with the makers of a deadly drug.
Information keeps arriving, but time may be running out in the hunt to find the hard evidence to establish that thalidomide was developed or trialed in the death camps—a hard link that would surely embarrass Grünenthal into finally giving full compensation to
its victims around the world.