It is May Day and here is a small summary of just some what is going on.
From
Europe Online
:
By our dpa-correspondent and
Europe Online
Berlin (dpa) - About 10,000 demonstrators clashed with police during a traditional May Day march on Tuesday night in Berlin, as marchers tried - for the first time - to reach the city's government district.

There were reports of stones hurled and insults shouted at police, firecrackers detonated and vandalism against banks and petrol stations.

A lead group of black-clad protesters attempted several times to rush a police line, as officers took shelter behind a truck. The demonstrators eventually withdrew, flinging smoke bombs and noisemakers.

The day was generally more peaceful than past May 1 holidays in Berlin.

In Hamburg, about 1,400 demonstrators marched down the historic Reeperbahn, with police mounting, but not employing, water cannon along the way.

May Day has often been associated with clashes between police and demonstrators and acts of vandalism and arson against businesses seen as gentrifying districts that had traditionally been home to people with anti-capitalist philosophies. Many of the Berlin protests centre on the Kreuzberg and Friedrichshain districts.

Berlin police reported that the marches started later than planned and that they had 7,000 personnel on hand for security. Helicopters could be heard overhead.

Demonstrators were dressed in black and wearing sunglasses or dark clothes over their faces as they marched.

Police noted that the night of April 30 - also a traditional night for violent protests - was unusually calm in Hamburg and Berlin. However, authorities said they were on standby for nightfall, when most violent incidents tend to occur.

"We have great respect for this job, but we are as ready as we can be," said police spokesman
Security was considerably increased in the vicinity of the Eagle Square in Abuja on Tuesday as Nigerian workers gathered to mark this year's May Day.
The News Agency of Nigeria (NAN) reports that there was however a massive turnout by workers for the event, in spite of the heavy security presence at the rally venue.
Several police and military personnel, as well as officers of the Nigeria Security and Civil Defence Corps, the Fire Service and the FRSC, were on hand to provide security.
They took positions round the square, which is the rally's traditional venue, with many police dogs on hand to assist them in handling crowd control.
Their presence was supported with the availability of Armoured Personnel Carriers (APCs), ambulances and towing trucks.
NAN reports that the gates into the square, located on the Shehu Shagari Way in the city's Central Business District, were still under lock and key to the public as at 9.45 a.m.
Hundreds of workers, clad in different uniforms, were seen along the surrounding streets waiting for the gates to be opened for the rally.
But at about 10 a.m when a gate was opened, a long queue of up to 500 metres quickly formed, with those going into the venue expected to join in a single file.
Later on, workers trooping into the venue were subjected to thorough screening by the police anti-bomb squad through a metal detector door before being allowed into the square.
Some of the workers who spoke to NAN said they were satisfied with the screening as it was meant to ensure their safety in view of the current security challenges in the country.
The rally usually feature march pasts, as well as speeches from top government officials and labour leaders.
Anti-austerity anger sweeps Europe on May Day
Supporters of the opposuition Bulgarian Socialist Party take part in a May Day rally in Sofia. May Day protesters poured into streets across Europe on Tuesday, swept up in a wave of anti-austerity anger that threatens to topple leaders in Paris and Athens.
Russian Communist party supporters on a May Day rally in Moscow. However, in the biggest, Russian rally more than 100,000 people held a Soviet-style march through the capital to celebrate labour day and show support for president-elect Vladimir Putin ahead of his inauguration.
AFP -
May Day protesters poured into streets across Europe on Tuesday, swept up in a wave of anti-austerity anger that threatens to topple leaders in Paris and Athens.
From the eye of the eurozone debt storm in Madrid to the streets of Paris and Athens, where tottering governments face elections within days, marchers spoke of job losses, spending cuts and hard times.
More than two years after the eurozone sovereign debt crisis erupted, frustration with austerity is boiling over across the continent as voters wait in vain for signs of the economic pay-off.
In Spain, suffering the industrialised world's highest jobless rate of 24.4 percent in the first quarter of 2012, the major unions called protests in about 80 cities.
Tens of thousands massed in central Madrid's Neptuno square, decrying the jobless queue, new labour reforms that make it easier and cheaper to fire workers, and a budget squeeze in health care and education.
"Total Violence, You Are Robbing Us of Home and Bread!" read a banner brandished by 51-year-old Josefa Martinez Fernandez, who said her two daughters in their 20s were out of work.
"They are going to destroy more jobs with the labour reform and create rubbish jobs," complained 28-year-old graphic designer Sonia Calles.
"Already in Spain almost everyone is an intern up to the age of 30. And now employment insecurity is going to hit those in their 30s and 40s."
Thousands rallied in Athens, Thessaloniki and other cities around Greece, five days ahead of cliffhanger general elections with voters fed up with years of austerity.
"No-one Alone, Together We Will Get There!" read a banner draped on a stage in Athens' central Kotzia square.
Polls indicate that Greeks are fleeing the main parties for smaller groups in revenge over a European Union-IMF economic recovery plan that has brought repeated waves of pay and pension cuts.
The two parties that have ruled Greece for the past 37 years, socialist Pasok and conservative New Democracy, are blamed for catastrophic finances after decades of state overspending and nepotism.
The new Greek government will face an early test when 436 million euros ($575 million) of debt, held by private creditors who turned down a swap, matures on May 15.
In Paris, the French presidential election race overcast the day as three powerful political movements battled for attention with competing rallies five days before polling day.
Marine Le Pen's anti-immigrant far-right National Front kicked off the May Day events with several thousand supporters marching through central Paris in memory of Joan of Arc, who has become a far-right icon.
Le Pen, who scored a record 18 percent in the April 22 first round, led the march and urged supporters to abstain rather than back President Nicolas Sarkozy or Socialist Francois Hollande in the run-off.
Waving a sea of blue, white and red French flags, Le Pen's supporters chanted "France for the French!" and "This Is Our Home!" as they marched to the Place de l'Opera.
Sarkozy's right-wing supporters were to gather at the Place du Trocadero in Paris's posh 16th arrondissement to hear their champion give his last major speech in the capital before the vote.
And, on the left, trade unions were to carry out their traditional march to the historic Place de la Bastille.
With the latest poll predicting a Hollande win on Sunday by 53 to 47 percent, Sarkozy is anxious to gain some momentum from the rally and said he expected "tens of thousands of French" to take part.
In contrast to Western European rallies, more than 100,000 people held a Soviet-style march through Moscow to celebrate labour day and show support for president-elect Vladimir Putin ahead of his inauguration.
Accompanied by kitsch brass music and surrounded by multi-coloured balloons, Putin and outgoing President Dmitry Medvedev led the march through a central Moscow avenue.
Police said around 120,000 people took part in the "Holiday of Labour and Spring" march in Moscow.
From
Morning Star:
Britain's working class fights back
Tuesday 01 May 2012
Printable
Email
London's workers made their opposition to cuts clear today with a 2,000-strong May Day march through the capital, joining millions who took to the streets across the world.
Construction, Remploy and public-sector staff assembled alongside Turkish, Iranian and Sri Lankan activists at Clerkenwell Green before marching through the city for the Trafalgar Square rally.
The Remploy workers at the head of the march stole the show, urging the coalition to save jobs for disabled workers.
GMB national convener at Remploy Les Woodward said the attack on the firm and its staff "encapsulates what this government is trying to do to the whole working class.
"They are trying to destroy us," he told the Star.
Mr Woodward urged workers to mobilise for a general strike to defeat the government's austerity agenda.
Remploy worker Julie Haynes said the firm could be profitable with proper investment.
"What makes Remploy different is we do a skilled job - we contribute to society, we pay our taxes," she said.
Highlighting the international character of the march, RMT London transport regional organiser Steve Headley said the fight against racism and fascism could not be more important.
"We've got to fight as the working class," he said.
"We can't be divided by ethnic differences. We have got to wake up and fight back."
Others on the march drew attention to co-ordinated strike action around pensions planned for May 10.
Southern and Eastern Region TUC secretary Megan Dobney said May 10 would be an "important sign that working-class people and trade unions in particular are opposing the government agenda."
Labor Day celebrations turns into mass protest in Kiev
The international Workers day celebrations has turned into a mass protest in Ukrainian capital Kiev. Thousands joined the march lead by the Ukrainian Party of Communists. Kiev is under tight security following the recent blasts in the city of dnipropetrovsk. Thousands of policemen and intelligence officials watched over the march.



Carrying red flags and singing Soviet songs 20 years after the USSR collapse, the workers here say they are disappointed with the current political situation in Ukraine.

Along with the typical soviet mottos like "Peace, Labor, May" on May 1st, the protesters held banners criticizing the government policies. They demand salary hikes and an end to the mounting unemployment

A former miner, Genadiy Anikeev, protests against what he describes as 'the oligarchs' who are robbing the people of their rights. His frustration near equals his nostalgia about the Soviet Union.

For the last few years, left wing parties have become more attractive for citizens in Ukraine. According to the head of the Ukrainian communists Petro Symonenko almost one half of new members are the youth, who had never lived in the USSR.

Recent surveys show that almost 70% of the population do not support the state's interior and foreign policy. Sociologists report that citizens are choosing to blame the situation on the President, Viktor Yanukovych. In the run-up to parliamentary elections, this is providing ammunition for opposition parties.
SWAZI POLICE BEAT TRADE UNIONISTS
About 10 People Being Arrested at LAX May Day Protest [UPDATED]
Two trade unionists in Swaziland were arrested and beaten by police at a May Day rally.
They were arrested because they were holding a banner with markings of the Trade Union Congress of Swaziland (TUCOSWA), a labour organisation that is not recognised by the Swazi Government.
The Centre for Human Rights, Swaziland, reported the two men, 'were violently arrested, beaten up and later released without charge by state police in Swaziland'.
The Centre named the two as Muzi Mhlanga, who is Secretary General of the Swaziland National Teachers' Association (SNAT), and another member of the union identified only as 'Oscar'.
The Centre said the two were arrested at a May Day rally in Manzini, the main commercial city in the kingdom, ruled by King Mswati III, sub-Saharan Africa's last absolute monarch.
In a statement the Centre said the men, 'were arrested after police pounced on toyi-toying workers who were carrying a banner with TUCOSWA markings'.
It added, 'The two were taken to the Manzini Regional Police Headquarters where they were detained for two hours. They were later called into an office and asked what their business was at the police headquarters, to which they responded that they had not gone there voluntarily, but were brought in by the police.
'According to Mhlanga, who was interviewed by the Centre after his release, five plain clothed police officers pounced on them as soon as the van delivered them at the regional headquarters.
'Mhlanga was shoved to the floor, and beaten by these members of the law enforcement agency. During the fall he sustained injuries to his knees and face. During the interview, Mhlanga spotted a visibly swollen face, especially around his eyes. Oscar on the other hand sustained injuries while state police dragged him and threw him into the police van which sped off immediately. Ironically, no charges were preferred against the two.'
The Centre said the two would bring charges against the police officers.
From Laist:
Protesters Arrested at LAX
The first demonstrator, said to be a 24-year-old man from South L.A. is being arrested (Screenshot)
An estimated 10 protesters are facing imminent arrest outside Los Angeles International Airport. The Los Angeles Police Department are working to control the permitted protest, however they are currently directing participants unwilling to be arrested to move aside.
A group of protesters seated on Century Boulevard who are willing to be arrested are staying put as the LAPD clears the area, and will likely be taken into custody shortly.
A LAPD rep tells a reporter from KTLA live on-air that the protesters will be arrested for a misdemeanor charge of "failure to disperse," and are expected to spend "a few hours" in jail.
The third arrestee being taken into custody (Screenshot)
Some of those protesters have indicated they are not LAX employees.
Meanwhile, LAX officials report that flight operations are normal despite the protests.
Drivers are warned that they will likely encounter planned intermittent, temporary closures of Century Boulevard between Airport Boulevard and the Central Terminal area.
UPDATE 2:30 PM The intersection of Century and Avion remains closed, though much of the crowd has dispersed. The LAPD are wrapping up the peaceful arrests of the protesters who remained seated on the street after an unlawful assembly was declared.
LAX officials have issued the following warning about traffic in the area:
Due to traffic congestion on northbound Sepulveda Boulevard diverted to the 96th Street Bridge to enter LAX, all motorists headed to LAX (including those from south of the airport) are advised to use Howard Hughes Parkway and take southbound Sepulveda Boulevard to access the airport.
The Anarchist "Terrorists" Arrested in May Day Plot Were Supplied by the FBI and an Informant With a Lengthy Criminal Record

As the Occupy movement carries out massive May Day protests around the country, the FBI Joint Terrorism Task force is trumpeting the arrest of "self-proclaimed anarchists" and "terrorists" who allegedly conspired to destroy a bridge in Ohio. Integral to the development and advancement of this plot, however, were FBI agents themselves and an informant with a drug and robbery record.
Douglas L. Wright, 26; Brandon L. Baxter, 20; and Anthony Hayne, 35, Connor C. Stevens, 20, and Joshua S. Stafford, 23, were arrested by the FBI on April 30, just in time to make the announcement as the nation turns its attention to May Day protests.
The affidavit reveals a plot by the FBI that continues a pattern of behavior in "terrorism" investigations against political activists. Most importantly, undercover FBI agents helped shape the "plot," offered advice on how and where to use explosives, and allegedly sold explosives to the activists.
Pervasive Use of Informants and Undercover FBI
The informant in the case has been working with the FBI since July 20, 2011, and has a criminal record including possession of cocaine, conviction for robbery, and four convictions for passing bad checks. (The FBI's proclivity for using down-and-out criminals was a key issue in the "Operation Backfire" Earth Liberation Front cases. The lead arsonist and informant, Jacob Ferguson, had a heroine addiction, and is now
back in prison on drug charges
).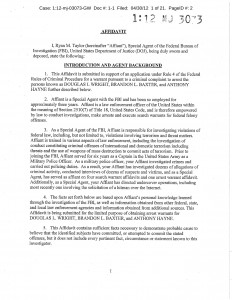 The informant and the others haphazardly talked about various plans, starting with the use of smoke grenades and destroying the banks signs off the top of large buildings.
For instance, on April 10, 2012: ""…BAXTER explained that he does not know what to do with the explosives and he has never considered blowing anything up before."
Conversation shifted to other outrageous plans. According to the affidavit, "WRIGHT joked that he would wear a suicide vest and walk in and blow himself up, but advised he would have to be very drunk."
"The CHS [the informant] asked the others what it is they wanted to do… BAXTER said that they had never decided on the bridge, they were just throwing out options and they had never decided on anything."
FBI Guidance
The defendants flitted between hyperbolic conversations -– some about destroying bank signs, some about destroying a boat, some about a bridge — and various spy tactics such as secret email accounts, wiping computer drives, and disrupting surveillance. At every step of the way, the informant (who was paid nearly $6,000, plus expenses) and undercover FBI agents were there to correct course.
At one point Wright asked the undercover FBI agent "if there was any work he could do… to pay for the items he was going to purchase" from the agent. Later, Wright told the confidential source that he no longer wanted to be part of the plan, but wanted to know if the informant might hire him to do some work on his house.
At another point, Wright told the informant that he and others thought one of the individuals involved was an undercover cop (which he was). To allay his fears, the informant said he would help provide the explosives.
Clamoring to Thwart "Terrorist Plots"
U.S. Attorney Dettelbach called this a violent terrorist plot, and said: "The defendants stand charged based not upon any words or beliefs they might espouse, but based upon their own plans and actions."
What's troubling is that the government has had a heavy hand in creating the very plot it thwarted.
And on top of that, the defendants, by the admission of the FBI, said repeatedly that they had no intention of harming anyone. At one point Baxter and Wright "stated they don't want people to think they are terrorists."
This isn't an isolated instance.
The criminal complaint reads like the spitting image of the case of
Eric McDavid
, who was coaxed by an undercover FBI operative named "Anna." In that case, like this one, the FBI supplied bomb making recipes, bomb making materials, and attempts to distill activist boasting and hyperbole into a coherent plan.
McDavid did nothing, and was arrested on conspiracy charges, like these defendants have been. As readers of this site know, conspiracy charges are the fall-back for the government when there is not enough evidence to get anything else to "stick."
Demonization of Anarchism
In addition to a continuation of undercover informants and FBI-manufactured plots, this case also reflects on an-going focus on demonizing anarchists.
The government's
press release
proclaims that the defendants are "self-proclaimed anarchists." The affidavit notes that they attended anarchist protests and carried anarchist flags.
The affidavit also says that the defendants talked about anarchists "rioting and destroying each city" that holds May Day protests, and that it will be "off the hook."
Demonizing anarchists has gone one for over a century, of course, but in recent years the rhetoric has dovetailed with "War on Terrorism" hysteria.
For example, in
Scott Demuth's case
, the government argued that: "Defendant's writings, literature, and conduct suggest that he is an anarchist and associated with the ALF movement. Therefore, he is a domestic terrorist."
It should come as no surprise, then, that the announcement of these arrests was carefully unveiled yesterday, so that the top news story this May Day would not be about how
anarchists are preventing home foreclosures, starting community gardens
, teaching collective organizing skills, and re-framing class consciousness, but about how they were part of an FBI-guided "terrorist plot."
May Day Protests Across the Globe
Hundreds of thousands of people across the globe have taken to the streets to mark May Day, also known as International Workers' Day.
In Athens, Jakarta, Madrid, Tunis and beyond, protesters are refusing austerity and demanding decent wages and working conditions.
The Jakarta Globe
reports
that Indonesia held Asia's biggest May Day rally today with over 160,000 protesters across the nation demanding better labor conditions.
Helena Smith
writes
in the Guardian that "workers across Greece have taken to the streets of towns large and small to protest the unprecedented belt-tightening ordinary Greeks have been subjected to over the course of the past two years. "
In the Philippines tens of thousands hit the streets to protest low wages and U.S. military presence. Xinhua reports that groups "unveiled a symbolic mural depicting the collective strength of masses as the 'real political power.'"
In Hong Kong, where thousands have staged protests today, one protester echoed the message of the Occupy movement,
telling
AFP that the "problem with Hong Kong is that the wealth is concentrated on a small number of people, many people are still living in poverty," university professor Fernando Cheung, who teaches social work, said at the rally.
"That's why Hong Kong has one of the world's highest income gaps between rich and poor. We urgently need a redistribution of wealth," he said.
* * *
Video from Al Jazeera shows May Day rallies in Athens, Madrid, Berlin and Moscow:
* * *
The Guardian
has
more images from May Day rallies across the globe.
May Day protests are widespread across Asia
AFP
Updated May 1, 2012, 11:27 pm
JAKARTA (AFP) - Trades unions and left-wing parties staged colourful May Day protests across Asia, sharing the theme of better wages and conditions, as living costs spike in fast-growing economies.
Thousands of Indonesian workers held Asia's biggest rally, demanding better pay and job security, watched warily by a heavy police and army contingent.
Carrying banners saying "raise our salaries" and "stop outsourcing contracts", more than 9,000 workers gathered at Jakarta's main roundabout before marching to the state palace.
Around 16,000 police and soldiers were deployed to guard the protest, Jakarta police spokesman Rikwanto told reporters.
"Living costs have gone up but our salaries remain unchanged. We only make enough to eat but there is no money in the bank, no money for our children's education," protest leader Muhamad Rusdi told AFP.
"There's also no job security. Jobs like telemarketing and production of goods such as electronics are outsourced (to contractors)," he complained. "We always live in fear of losing our jobs."
Indonesia's parliament in March rejected a plan to hike the country's heavily subsidised fuel price by a third, after protests in Jakarta that saw demonstrators hurl stones and police retaliate with tear gas and water cannon.
A rash of workers' strikes that began late last year across the nation of 240 million people saw several provinces hike their minimum wages.
Factory workers on the outskirts of Jakarta blocked major roads and disrupted the international airport early this year, winning an increase from 1.29 million rupiah ($141) a month to 1.49 million rupiah ($162).
Raising the minimum wage was the main demand also for about 5,000 workers, domestic helpers and activists who held a noisy procession through central Hong Kong, clashing cymbals and chanting demands on the city's incoming government.
"The problem with Hong Kong is that the wealth is concentrated on a small number of people, many people are still living in poverty," university professor Fernando Cheung, who teaches social work, said at the rally.
"That's why Hong Kong has one of the world's highest income gaps between rich and poor. We urgently need a redistribution of wealth," he said.
In Manila, about 3,000 workers and activists marched to the presidential palace, bearing a giant effigy of Philippine President Benigno Aquino which depicted him as a dog obedient to foreign capitalists.
They carried banners saying "raise our pay now" and "fight for socialism".
But in a Labour Day speech, Aquino said: "If our wages go even higher, what foreign investor will put his money here? Our economy could fall even further behind."
The government in Taiwan is also fretting about its competitiveness in the face of rising global energy prices.
Last month it announced that electricity prices would rise by up to 37 percent from mid-May, following a recent 10 percent increase in petrol prices.
Denouncing the increases, more than 1,000 workers took to the streets in downtown Taipei for a Labour Day rally that also condemned workplace exploitation.
"Oppose exploitation" and "oppose double hikes," the protesters shouted, waving matching placards.
In East Timor, Asia's poorest nation which this month celebrates a decade of formal independence from Indonesia, police fired warning shots and arrested 84 people to disperse some 500 protesters calling for higher wages.
Police said they were forced to intervene to break up the "illegal demonstration" after protesters began hurling stones and marching to a hotel in Dili where some staff had recently been laid off.
| | | | |
| --- | --- | --- | --- |
| Cubans Stage a Colorful Parade with Socialist Flavor | | | |
Por Roberto Hernandez
Havana, May 1 (Prensa Latina) Hundreds of thousands of workers, employees and students marched on Tuesday in Havana bearing the colors of the Cuban flag to commemorate International Workers'' Day with socialism as a course.
A huge piece of fabric with the phrase "Preserve and improve socialism" led the popular march at the Jose Marti Revolution Square, in the presence of President Raul Castro and labor leaders, representatives from the Communist Party, the State, the government and political and social organizations.

The parade, which started at 07:29 hours, local time (11:29 GMT), was led by a bloc of health workers from the capital, the flagship sector of Cuba's international cooperation, currently present in 66 countries.

Several people bore the flags of the nations in which the Cuban medical brigades work, with representation in every continent.

Giant Cuban flags, posters allegorical to the celebration and with the colors blue, red and white were the protagonists of the parade, held simultaneously in other cities of the country.

Grouped into 23 blocs, union members, many of whom with models representing their respective areas, such as dolls dressed as nurses, taxis, computers, picks and shovels marched in front of the monument to Cuban National Hero Jose Marti.

They carried pictures of the leader of the Cuban Revolution, Fidel Castro, and world revolutionaries like Karl Marx and Vladimir Ilich Lenin.

There were also prominent banners with images of the Cuban antiterrorists Gerardo Hernandez, Ramon Labanino, Antonio Guerrero, Fernando Gonzalez and Rene Gonzalez, who were arrested more than 13 years ago in the United States, and with demands for their release and immediate return home.

For nearly one and a half hour, participants chanted slogans in favor of the Revolution, socialism and the leadership of Fidel Castro and Raul Castro.

In an area of the rostrum were 1,900 union leaders representing 209 organizations from 117 countries, who saw hundreds of thousands of people marching in Havana on behalf of the entire Cuban population.