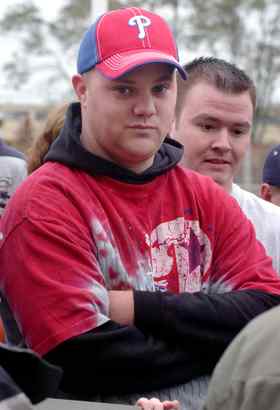 Joshua Dewees "fine officer"
Four times this cop has been charged with police brutality. Four times the city has had to settle the case. Still Chester Police Officer Joshua Dewees goes out everyday in uniform with his gun to "serve and protect."
The last two
federal lawsuits filed against the Chester police
describe two incidents where the
plaintiffs claim Officer Joshua DeWees wrongly arrested them. One mentions Dewees shouting
racial insults at members of the plaintiffs church during the indicent. Both suits claim the city
and police department were aware of past complaints against DeWees but failed to discipline
him.
Almost a year ago demonstrators demanded his removal from the force. In response F
raternal Order of Police President Todd Nuttal said due process for Dewees is not being followed.

"The NAACP, a great organization, should be looking for the truth through due process. I believe when these incidents are done in court, the truth will then be known," Nuttal said.

"For someone to ask for the suspension of this fine officer prior to the truth being found is premature."
The following is from the Philadelphia Daily News.
DESPITE 4 BRUTALITY SUITS, CHESTER OFFICER IS STILL ON THE FORCE
Last year was not good for Chester Police Officer Joshua Dewees.
The 28-year-old was hit with three federal lawsuits alleging police brutality and wrongful arrests, his pickup was set on fire while he was sleeping and protesters took to the street demanding that he be fired.
Dewees was sued again last month for similar allegations, and lawyers representing Dewees and Chester recently settled two of the previous suits by paying the plaintiffs before the cases went to trial.
"I believe that he shouldn't be a police officer, considering the number of cases against him and the fact that they are settling these cases," said attorney Joseph Oxman, who filed the lawsuits. "I don't know why it seems that no one is interested in investigating this."
The most recent suit alleges that Dewees assaulted and wrongfully arrested Chester resident Kevin Wilson last year while he was walking from a dance at the Leake Center. Wilson, 20, was charged with aggravated assault, reckless endangerment, resisting arrest and related offenses. The charges were later dismissed.
Chester spokeswoman Emily Harris said Dewees was still on the police force but declined to comment on the lawsuits.
Dewees had been suspended, a source said, because of a December 2007 incident at Grace Church of God in Christ, in which Gerald Turner, of Bear, Del., alleged that Dewees arrested him when he tried to report a traffic accident. Dewees, who is white, allegedly told church members to "get your black asses out of the parking lot," according to the lawsuit.
"He cussed me out, cussed the pastor out, cussed everyone out and locked me up," Turner, 53, said at last year's protest.
Turner was never prosecuted, and the lawsuit he filed last year was settled last month for an undisclosed sum.
City attorneys have agreed to pay $57,500 to settle a suit filed last year by Rickia Reese, who alleged that Dewees assaulted and wrongfully arrested her in 2007. The charges against Reese, who was 14 at the time, were dismissed.
In the fourth lawsuit, Julia Quagliarello, who was driving to classes at Widener University when she was arrested last year, alleged that Dewees pointed a gun at her head after pulling her over and wrongfully arrested her for fleeing a police officer. The charges against Quagliarello, who was 18 at the time, were thrown out.
It was unclear yesterday whether Dewees' police duties have been curtailed because of the complaints. Chief Floyd Lewis was out of the office, and messages left for police officials and the city's attorneys were not returned.
"I am a family man who entered in the law-enforcement field to help not hurt people," Dewees said last night. "Not once have I been investigated or charged criminally because the allegations made are false."
Chester has not admitted wrongdoing in any of the cases.
"The fact that they settled speaks for itself," Oxman, the plaintiffs' attorney, said. "The ultimate problem in this city is there is no mechanism for citizen oversight of the police department. There never has been."