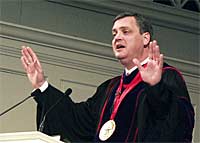 A number of gay activists from the group Soulforce were arrested today after staging a sit-in at a Baptist seminary.

The group, Soulforce, attempted to meet with the Southern Baptist Theological Seminary's president, the Rev. R. Albert Mohler Jr., an influential evangelical leader.

About a dozen members of the group were arrested and escorted off the campus and charged with criminal trespassing after sitting in front of Mohler's office for about two hours, said Jarrett Lucas, a co-director of a Soulforce tour that is visiting Christian colleges

Mohler asserted in a recent article that homosexuality would remain a sin even if it were biologically based, and stated he would support a hypothetical medical treatment that could switch an unborn gay baby's sexual orientation.

Mohler said he would endorse prenatal hormonal treatment _ if such a technology were developed _ to reverse homosexuality. He said this would no different, in moral terms, to using technology that would restore vision to a blind fetus.


''I realize this sounds very offensive to homosexuals, but it's the only way a Christian can look at it,'' Mohler said. ''We should have no more problem with that than treating any medical problem.''

''He's willing to play God,'' said Harry Knox, a spokesman on religious issues for the Human Rights Campaign, a national gay-rights group. ''He's more than willing to let homophobia take over and be the determinant of how he responds to this issue, in spite of everything else he believes about not tinkering with the unborn.''

Mohler's argument was endorsed by a prominent Roman Catholic thinker, the Rev. Joseph Fessio, provost of Ave Maria University in Naples, Fla., and editor of Ignatius Press, Pope Benedict XVI's U.S. publisher.

Such logic dismayed Jennifer Chrisler of Family Pride, a group that supports gay and lesbian families.

''What bothers me is the hypocrisy,'' she said. ''In one breath, they say the sanctity of an unborn life is unconditional, and in the next breath, it's OK to perform medical treatments on them because of their own moral convictions, not because there's anything wrong with the child.''

What follows is a press release from Soulforce expaining the sit in that led to the above mentioned arrests.

Gay/Straight Youth Sit-in at Southern Baptist Leader's Office; Demand Apology for Eugenics Remarks
******************************************
SOULFORCE PRESS RELEASE: March 26, 2007
For Immediate Release
Contact: Kyle DeVries, East Bus Media Director
Cell: 612-715-6284, kyle@equalityride.com
******************************************

WHAT
In light of recent inflammatory comments by Albert Mohler, leaders of the Soulforce Equality Ride have decided to reroute temporarily in order to conduct a sit-in at his office in the Southern Baptist Theological Seminary. They will demand a public apology for statements Mohler made earlier this year that encouraged the intentional prevention of homosexuality. The 2007 Soulforce Equality Ride is a journey by 50 young adults seeking to end religion-based discrimination by visiting Christian universities where both policy and doctrine condemns lesbian, gay, bisexual, and transgender people. The group is divided between 2 buses traveling 2 distinct routes across the nation.

In a recent blog, Mohler wrote, "If a biological basis is found, and if a prenatal test is then developed, and if a successful treatment to reverse the sexual orientation to heterosexual is ever developed, we would support its use as we should unapologetically support the use of any appropriate means to avoid sexual temptation and the inevitable effects of sin." The Equality Riders do not plan on leaving the Seminary until Mohler rescinds his harmful comments and publicly apologizes for them.

WHERE
Norton Hall, Southern Baptist Theological Seminary

WHO
Twenty-five lesbian, gay, bisexual, transgender, and straight young adults, Christian and non-Christian, on a mission to converse with and educate tomorrow's conservative leaders.

WHY
Mohler is considered the "reigning intellectual" in the Evangelical Christian community and therefore holds influence over millions of people. His support of eugenics is both dangerous and immoral. Left unchallenged, such prejudice becomes a destructive force that affects everyone. The 25 young adults who will sit-in recognize the ignorance, fear, and hate that impel such homophobia. They feel called to meet such bigotry with nonviolent resistance and to demand change