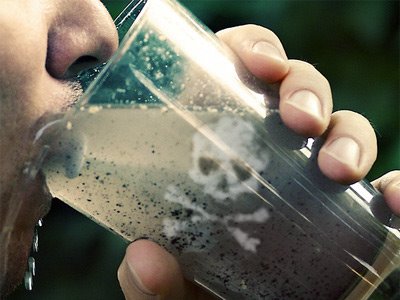 Back when this blog was named the Oread Daily, I used to do this regular feature called "The Lawson Files" named after an older fellow who used to live down the street back when I was residing on the east side of Lawrence, Kansas. The Lawson Files dealt with local issues, or issues that seemed too unimportant for most leftists to give a hoot about. These were stories of ordinary folks dealing with things that were important to them, but often to no one else. The story below would have ended up in the Lawson Files.
How would you feel if your were suspecting that your community's drinking water had long been causing illness in your neck of the woods and you had for a while been complaining about it? How would you feel if all the while you were told there was no problem and your water was safe to drink? How would you feel, if all that turned out to be untrue and you had, in fact, been drinking water unfit for consumption? What would you, could you actually do about it if your community was just not significant enough apparently for anyone to care about? How do you go about getting anything done when the most local of local representatives of the huge, far flung Empire either lack the brains, the power, or the wherewithal to do anything? How would you feel if your health, your life, and those of your loved ones, friends and neighbors just didn't count?
Top News Arab Emirates (of all places) reports on the little community of
Delegate i
n Australia:
A report that was released last year said that NSW (New South Wales) Health found that water from the Delegate River contains high pollution levels. Considering this, residents of the town believe that the water quality was always a problem for them but they were never asked to take proper steps in this regard.
Last year the report was given by NSW Health department to the Bombala Shire Council.
You have to ask, if the water is bad, why not fix it, or warn people, or issue a boil order or something. Seems like an easy call. Seems like nothing too tough. Why just pass your report along to the Bombala Shire Council? Why is the best that anyone can tell you is,
"

A meeting by delegates is also expected in near future?"
You know the answer and so do I.
Who cares?
The world is full of such stories. This is one of them.
NSW town furious at dangerous water supply


Residents of a small town in southern New South Wales say they have been kept in the dark about pollution in their water supply.


Around 140 properties at Delegate, on the NSW border with Victoria, draw their water from the Delegate River.

But a report late last year from NSW Health found the water from the Delegate River is too polluted to drink.


Resident John Wilkshire says the community has been worried about the water quality for years, but they have never been told to take precautions.


"We have never been directed to boil it by the council, so we are all thinking here that we have a safe water supply, but it appears that's not the case," he said.


"People are suffering from health problems, including quite a number of children."

Last year's NSW Health draft report was provided to the Bombala Shire Council, which is holding a meeting in Delegate this afternoon.


The council's general manager, Don Cottee, admits the town's water has been a problem


"The water is not safe to drink and that's what we want to discuss with the community," Mr Cottee said.


Mr Cottee says daily testing has been conducted since the council was notified of the problems and steps are being take to improve the water quality.


"They haven't had a safe supply of water. It's being looked at now," he said


"The only form of treatment is the application of chlorine.


"The system is tested for residual chlorine at the extremities."


But Mr Cottee says while the chlorine reduces the risk, it does not remove all of the dangers.