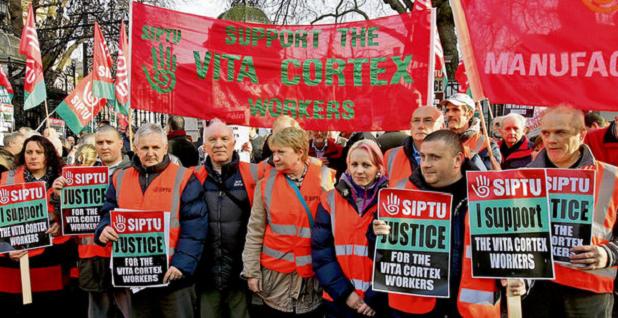 Last weekend more than five thousand people marched in Cork, Ireland in support of workers who have been occupying the Vita Cortex plant for three months. Amongst the marchers were local La Senza workers who are engaged in a similar struggle.
Thirty-two former workers were not paid redundancy when the foam manufacturing plant in Ballyphehane closed in mid-December and have been staging a sit-in protest at the facility ever since.

Service Industrial and Technical Union (SIPTU) spokesperson Anne Egar said the workers' campaign has captured the sympathy of the nation.

She told the Irish Examiner, "I think that their dignity has been an example to everyone around the country," she said.

"Their story has certainly resonated with people."
While the support of the SIPTU is appreciated it is to be said that it is blunted by the Union"s association with the governing Irish Labour Party and the class collaborationish history of Irish trade unions in general. As Ceasefire Magazine writes:
"...thus there have been no calls for the government to put pressure on Vita Five Five to fulfill its legal obligation to file its accountsm, nor any demands for the government to save the workers' jobs through nationalization or proposals for solidarity actions by workers in Vita Cortex's other factories in Belfast and Althlone."
Late in January, the workers issues an open letter which reads:
"Today marks the 42nd day of our sit-in. When we began this protest we really didn't believe that we would still be here in late January. We honestly believed that Jack Ronan would see the light and pay us a just redundancy given the 847 years of service that we have given to Vita Cortex. Sadly, following the collapse of LRC talks on Friday, it is clear that he remains determined to cling to an intransigent position.

"Some of the moves made on his part, over the course of the negotiations, have left us feeling disgusted. The situation is disappointing and we look forward to the day when Mr Ronan realises the gravity of the injustice that he is perpetuating against us. We hope that he will find the decency to turn away from his current path. It is time for him to meet his responsibilities not only a businessman but also as a human being.

"The Irish public have been amazing in their support of our struggle. However, we are aware that life moves on. But life cannot move on for us until we secure an equitable resolution. We never asked to be seen as heroes or role models but we are grateful to those who have described us in such glowing terms. We also realised, sometime ago, that this is not just about us. It is fight that must be won in order to ensure that this cannot and does not happen to anybody ever again.

"The media have rallied to our cause and this is something that should be recognised. But we call on all media outlets not to forget us in absence of talks or negotiations. The struggle is here on the factory floor. The media has done a great job in bringing our story to you all and we hope that they will continue to do so.

"We also ask everybody to get behind us online through Facebook and Twitter. The online campaign has done wonders in terms of internationalising our situation. It continues to gain momentum by the minute.
We call on all politicians to intensify their representations on our behalf. We particularly call on government ministers to take action and use their influence to ensure that we end up with a fair deal.

"We also ask all the employers of Ireland to treat their workers with respect and dignity during these difficult times. There a great many honest and hardworking business owners in Ireland. Many of you are our friends. Indeed, many of you have supported our fight for a fair settlement. Unfortunately, in times of economic hardship communications can become strained and conflict can arise. However, nobody should have to go through what we are going through.

"One way of working towards economic recovery would be the development of a real and genuine departure from old thinking and tired ideas. The emergence of a values-based relationship between employers and workers can become a reality but only if the will exists to work towards it. However, such a departure cannot carry with it, the weight of injustices such as the one being carried-out against us over the last six weeks.
So here we remain folks: sitting-in for justice, asking for support.

Sincerely,
The Workers of Vita Cortex
January 26, 2012"
Vita Cortex 'sit in' reaches 60 days
Vita Cortex
announced it was closing its Cork plant in September 2011. When the workers finally got issued their notice in December they discovered that the bosses had screwed them out of their redundancy payments. The workers occupied the factory, and have remained there since. Their occupation has now reached 60 days. They are refusing to leave until the bosses cough up what they owe.
Since December last year
, thirty two workers have occupied a foam packing factory in Cork, Ireland. They are demanding redundancy payments that they were promised.
Workers
at the plant were promised 1.2 million Euro's in September when it was announced the plant would be closing, and production transferred elsewhere.
Staff were given their redundancy notices on December 16th (merry Christmas) yet there was no sign of the money they were owed.
In response, the
workers occupied the factory
and have remained there ever since. They have since rejected a derisory offer from the bosses of 1,500 Euro's each to leave.
For many
of the workers Vita Cortex is all they have known. The 32 occupiers have worked for the company for a combined total of 847 years. They now face little chance of finding alternative work as there are over 25,000 unemployed people currently living in and around Cork.
In a typical bosses trick, Vita Cortex has shifted money here, there, and everywhere, passing assets between companies making it difficult for anyone to get at it.
In a show of solidarity, the local fire brigade has been delivering food to the occupiers, and a taxi firm has been offering their services free of charge.