MEXICO. It has always seemed that Mexico has a special spot in the Empire. Some many things that seem representative of globalization and Empire seem to converge there...as does the autonomous resistance. The Zapatistas are probably the best known example of the new forms of resistance, but they aren't alone. In Mexico, campesinos fight the Mexican state, the multinationals and all the rest...for their land. In Mexico, communities rise up against huge mining companies and the local police, acting as the company cops, shoot them dead. In Mexico, poverty, Empire, neo-liberalism, globalization, repression and narco cartels combine into a swirling mass of subjective history and objective chaos. MEXICO.
I am posting three articles below, all of them from Upside Down World which sort of say it all.
The Aguán River Valley in the department of Colón, Honduras, is a site of both an ongoing conflict and a powerful social movement. In a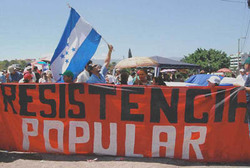 struggle for land that greatly predates, but was also further exacerbated by, the 2009 military coup in Honduras, campesinos in the Aguán are constantly subject to human rights abuses, repression and injustice. But, as witnessed during my recent participation in an Alliance for Global Justice accompaniment delegation, these communities are also unfailingly resilient. Poor, vulnerable, and landless, the Aguán campesinos truly represent and embody the Resistance movement in Honduras.
The land in the Aguán Valley is rich, fertile, and highly coveted. As a result of the Agrarian Reforms of the 1960's and 1970's, Honduran campesinos received farmland in the Aguán and proceeded to clear, prepare, and develop the once-rainforest Valley into an agricultural region. Subsequent abolishment of the Agrarian Reform legislation in the early 1990's led to growing privatization and changing agricultural tariffs, while structural adjustment policies and trade liberalization hit small farmers the hardest, increasing their vulnerability to global markets. Deceitful land grabs and state policies supporting large landowners, corporate agriculture, and systematic repression of the peasantry battered campesinos, robbing them of their land and their rights while leaving agribusiness and the oligarchy intact.
Threats, intimidation, manipulation, and dire economic straits pressured many campesino cooperatives to sell their land, resulting in a gross re-concentration of land ownership in the region, primarily in the hands of agribusiness moguls Miguel Faccusé, René Morales, and Reynaldo Canales. Even campesino communities that never voluntarily surrendered their titles have been forced from their land through repressive means, such as illegal evictions. Today, campesinos continue to grapple with the challenges of landlessness and clashes against large landowners and paramilitary forces in their ongoing fight for land titles and for justice. Their struggles are many, but their common demand and essential need for land unites the campesino movement.
The situation in the Aguán is highly complex, intertwined in a context of political weakness, widespread corruption, narcotrafficking, and systematic displacement of poor populations for the benefit of wealthy "developers." Former President Manuel Zelaya initiated agrarian legislation to grant title to certain campesino organizations, but these agreements were halted prior to their realization when Zelaya was overthrown in June 2009. Violence against campesinos has escalated in the wake of the coup, and current President Pepe Lobo has responded to discontent in the Aguán with heavy militarization of the region and state-led repression of campesinos. The movement in the Aguán reports that 55 campesinos have been killed at the hands of private security guards of large landowners, in cooperation with police and military forces, since the coup in 2009. Many others have been captured and tortured, and regular, targeted threats of disappearance, eviction, and death psychologically torture campesinos and function as a constant reminder of the insecurity and vulnerability of their livelihoods.
Despite this regime of systematic, structural, state-funded violence, campesinos of the Aguán have organized their communities to resist the repression, fight for land rights, and work toward viable alternatives. The campesino movements have recently established the Observatorio de los Derechos Humanos en el Bajo Aguan, a Human Rights Observatory with representation from local organizations, including each Aguán campesino community. The Observatorio also invites international human rights observers to join in solidarity with the movement through long term accompaniment in Honduras. Campesinos throughout the Aguan Valley are hopeful that the inauguration of the Observatorio will aid in denouncing repression and violence and will bring heightened international attention to the violations of human rights and impunity occurring in the Aguan Valley.
Campesinos have been deprived of their land and are suffering grave violations of human rights to fuel the prosperity of capitalist agribusiness. Nevertheless, they continue to occupy and fight for land in the Aguán Valley and to mobilize their communities as part of a larger national popular resistance struggle for democracy and justice in Honduras.
Via Grain.
For more information:
Alliance for Global Justice: www.afgj.org; afgj@afgj.org
Rights Action: www.rightsaction.org; info@rightsaction.org
Food First: www.foodfirst.org
Zapotec Protesters Shot On Behalf Of Canadian Mining Company
BY
JAN 23, 2012
Photo Credit: noticiasnet.mx
One Zapotec has died and another is in recovery after a group of municipal police officers and other armed men opened fire on a crowd of protesters in the municipality of San José del Progreso, Ocotlán, Oaxaca, Mexico.
On 18 January, members from the community of San José del Progreso had gathered to speak out against a pipeline that the mining company Cuzcatlán wants so it can exploit the community's water resources.
Cuzcatlán, a subsidiary of the Canadian mining company Fortuna Silver has already received a permit to build the pipeline. Opponents of the mine maintain that the permit should not have been issued because the municipal government failed to obtain the community's free, prior and informed consent.
According to an initial report by El Colectivo Oaxaqueño en Defensa de los Territorios, there was a bitter confrontation during the protest between community members who oppose the mine and others who support it (Ever since Fortuna Silver arrived on the scene, there has been a great deal of tension in the community.)
During the confrontation, a group of police and plain-clothed men suddenly and unexpectedly opened fire on the protesters, seriously injuring two people: Bernardo Mendez Vazquez and Abigail Vasquez Sanchez. Abigail Vazquez is in stable condition and is now recovering from an injury to one leg; however, Bernardo Mendez Vazquez has since passed away as a result of multiple injuries to the stomach, chest and leg.
Thus far, no arrests have been made; however, the accusations are flying. Opponents of the mine insist that the mayor of San José del Progreso gave the order to open fire; while others have claimed that he was one of the gunmen.
In any case one thing is clear: Bernardo Mendez Vazquez and Abigail Vasquez Sanchez were ultimately shot on behalf a Canadian mining company.
El Colectivo Oaxaqueño en Defensa de los Territorios is calling for:
A thorough investigation and punishment of the masterminds and perpetrators who opened fire on the people of San José del Progreso.

The government to provide security within the community, which has been immersed in social tension ever since the mining company came into the picture in 2006.

The three branches of government address the legitimate demands and concerns of the community and the institutional mechanisms that generate conflict

Respect for the main demand of the United Peoples Coordinator Ocotlán Valley (CPUVO) concerning the immediate withdrawal of the mining company, because it is generating clashes in the community.
What You Can Do
Contacts
1) Lic. Manuel de Jesús López López, Procuraduría General de Justicia del Estado de Oaxaca.
Official Address: Centro Administrativo del Poder Ejecutivo y Judicial _Gral. Porfirio Díaz, Soldado de la Patria_.
Colonia : Edificio Jesús _Chu_ Rasgado. Segundo Nivel. Reyes Mantecón, San Bartolo Coyotepec Oaxaca.
Official Phone: (951) 501 69 00 ext. 20769 / 20602
Official Email: contacto@pgjoaxaca.gob.mx
2) Lic. Oscar Cruz López, subsecretario de gobierno y desarrollo político.
Official Phone: 5015000 EXT. 13889
Official Email: oscarcruz@oaxaca.gob.mx
Official Address: Carret. Int. Oaxaca-Istmo Km. 11.5, Cd. Administrativa, Edificios 4 y 8
Colonia : Tlalixtac de Cabrera
C.P : 68270
3) Lic. Manuel de Jesús López López, Procuraduría General de Justicia del Estado de Oaxaca.
Official Address: Centro Administrativo del Poder Ejecutivo y Judicial _Gral. Porfirio Díaz, Soldado de la Patria_.
Colonia : Edificio Jesús _Chu_ Rasgado. Segundo Nivel. Reyes Mantecón, San Bartolo Coyotepec Oaxaca.
Official Phone: (951) 501 69 00 ext. 20769 / 20602
Official Email: contacto@pgjoaxaca.gob.mx
4) Lic. Emanuel Castillo Ruiz. Coordinador General de Asuntos jurídicos
Official Phone: 951 5020800
Official Email: enlace.seguridadpublica@gmail.com
Official Address: Heroico Colegio Militar No. 317
Colonia : Reforma
C.P : 68050
5) Mtra. Eréndira Cruzvillegas, Comisionada para los Derechos Humanos del Poder Ejecutivo del Estado de Oaxaca.
Official Phone: (951) 501 5000 Ext. 40056
Official Email: erendiracruz@oaxaca.gob.mx
Official Address: Palacio de Gobierno, Bustamante esquina con Guerrero S/N, Colonia Centro.
6) Dr. Heriberto Antonio García, Defensor de los Derechos Humanos del Pueblo de Oaxaca.
Calle de los Derechos Humanos No 210, Col América
C.P.68050
Oaxaca Oax
Official Phone: (951) 50 30 52 00
Official Email: correo@derechoshumanosoaxaca.org
Originally from Intercontinental Cry
| | | | |
| --- | --- | --- | --- |
| The Rarámuri Crisis: Extreme Poverty (Briefly) to the Fore in Mexico | | | |
Tuesday, 24 January 2012 17:34
In the midst of Mexico's senseless "Drug War" and the erroneous belief that drug-trafficking is the root of the country's evils, Mexicans were given a powerful reminder last week of the deeper crisis affecting their fellow citizens. A video posted on social media sites concerning a severe drought in the state of Chihuahua saw the extreme poverty and malnutrition afflicting the region's indigenous population highlighted in the media for a brief few days.
Chihuahua, a vast, dry and mountainous state bordering Texas and New Mexico, is home to several indigenous groups, the largest of which, the Rarámuri (or Tarahumara), inhabit the region surrounding one of Mexico's most spectacular natural wonders, the Barranca del Cobre, or Copper Canyon. The Rarámuri – whose name means "those who run fast", for their famed bare-footed running ability – number some 60,000 in the eponymous Sierra Tarahumara where they took refuge after the Spanish conquest.
On January 15, a video was posted on Twitter of a local official claiming that as many as 50 Rarámuri had committed suicide because of famine. The Mexican media immediately jumped on the story, portraying the isolated Tarahumara region as "our Somalia". While the mass suicide is now believed to be an exaggeration (no evidence exists that it took place), state authorities have since confirmed that 28 Rarámuri died from malnutrition last year, with a further 47 victims in 2010.
The hambruna, or famine, afflicting the Rarámuri has been attributed to a brutal winter and the worst drought in the region for 71 years. But the media coverage brought attention to the wider conditions of extreme poverty in which some 12 million Mexicans live. Last year, the Hospital Teresita in the Tarahumara town of Creel (a popular stop on the famous Copper Canyon Railway) treated 250 children for malnutrition, including 25 severe cases.
The state of Chihuahua is also a key battlefield in Mexico's "drug wars". The notorious El Chapo Guzmán's Sinaloa Cartel rules the roost in much of the state, although its rivalry with the Vicente Carrillo Fuentes Organization (or Juárez Cartel) has unleashed the heaviest of the country's gang violence.
Despite the fact that some 60% of Mexicans are classed as mestizo (a mix of European and indigenous blood), racism and sheer ignorance of the country's indigenous population is no less common than in former white-settler colonies like the US and Canada.
As the crisis in Chihuahua was co-opted by mainstream media outlets, most described the affected population as Tarahumara – after the Sierra Tarahumara where the majority of them live. But the name actually has racist connotations for the group itself, which prefers to be known as Rarámuri. Spanish invaders had struggled with the pronunciation of the original name.
Over the years, the Rarámuri have repeatedly suffered drought, famine and other environmental crises without the blitz of media attention seen in recent days. According to a UN report on indigenous peoples in Latin America, the six most deprived municipalities in Mexico are all to be found in the mountains of Chihuahua. The region has an infant mortality rate of 12.5 per thousand live births; 8.3 of whom die of malnutrition.
The federal government initially denied the reports that a "famine" was taking place. But as political rivals rushed to demand aid relief and the Mexican Red Cross confirmed it had expanded its expeditions to the region this winter, the Felipe Calderón administration announced the provision of 14,000 emergency food packets and a collection point for donations in Mexico City's Zócalo square.
Governor César Duarte, whose Institutional Revolutionary Party (PRI) is currently favorite to take the Mexican presidency in July, quickly moved to take political advantage of the crisis. Duarte appeared at aid distribution sites to tell Rarámuri queuing for food and blankets that they are a "proud and strong" people and, after all, "the owners of this land"; the latter a gross statement of ignorance.
Chihuahua is a state rich in natural resources – from gold and silver to forests and rivers – but the massive investment by US and Canada-based corporations through the North American Free Trade Agreement (NAFTA) has done nothing to benefit the communities that have dwelled in the region for centuries. At the same time, subsidized US agricultural imports have devastated the livelihood of local farmers, who have been increasingly driven to produce illicit crops like marijuana and opium poppies.
The Calderón administration, which has very close ties to the US, remains fully committed to the neoliberal model, and its weak social welfare programs – such as the much-touted Oportunidades scheme – don't address the fundamental economic injustices at the heart of the NAFTA agreement. The right-wing National Action Party (PAN) has gambled its legacy on the militarization of the war on drugs while largely ignoring the systemic inequality at the root of the illegal trade.
According to recent figures by the National Council of the Evaluation of Social Development Policy (CONEVAL), some 52 million Mexicans (or 46.2% of the population) live in poverty, of which some 12 million are in extreme poverty; an increase of nearly 2%, or three million people, from recent years. What's more, these figures are widely questioned because of the government's very low measure of what constitutes poverty.
Armed Capitalism and the Drug Trade
State authorities and the Catholic Church in Chihuahua have largely blamed the food crisis and ongoing displacement of the Rarámuri on the country's drug-trafficking gangs. Héctor Fernando Martínez, the parish priest of Creel, told national daily La Jornada: "Narco, not lack of food, is the biggest problem in the mountains [of Chihuahua]... They arrive and displace people from their lands, take their houses, and through fear leave them to either grow [marijuana or poppies] or get out of their villages."
While it's true that criminal groups have tormented the Rarámuri and other local communities for years, many of the state's rural inhabitants have had little choice but to produce drug crops in the face of subsidized imports. Furthermore, while farmers receive a higher price for growing marijuana or poppies than their now-redundant traditional crops, the rewards are miniscule in comparison to the profits made by organized crime lords, and the threat of violent reprisals is an ever-present reality.
The government of Chihuahua has been repeatedly accused of supporting the locally-based Juárez Cartel in its turf war with the Sinaloa organization. In October, Governor Duarte unbelievably claimed that all kidnapping cases in the state had been solved and vastly exaggerated the number of arrests and prosecutions made by state authorities.
While most of the violence in Mexico today is blamed on warring drug gangs, well-documented human rights violations by state forces and private security companies are widely ignored. The reality is that the lines between drug gangs, police, the military, paramilitary groups and corporate security firms have been profoundly blurred in parts of the country like Chihuahua, where official impunity allows abuses to go unpunished.
Upside Down World contributor Dawn Paley recently reported on the controversy surrounding Canadian corporation Minefinders, which opened a gold and silver mine near the mountain town of Madera four years ago, displacing more than 60 families in the process. Protesters involved in a blockade of the site were threatened by armed men in civilian clothes, while one of the organizers, Dante Valdez Jiménez – an elementary school teacher – was later attacked and beaten in front of his students by anonymous assailants. None of which ever makes headlines in the mainstream media.
Meanwhile, the struggle for rural workers' rights continues. A march organized by the National Peasant Confederation (CNC) is currently underway from Chihuahua to Mexico City, protesting the lack of support by the federal government for twenty areas of Mexico affected by drought and demanding long-lasting solutions to the neglected effects of climate change.
The National Committee of Rural & Fishing Unions (CONORP), one of the organizations participating in the march, has warned of an "Arab Spring"-like effect should the government not act – referring to the food shortages that sparked uprisings in Tunisia and Egypt. In this big election year, watch for the peasant struggle to become a political football as poverty briefly overtakes the "Drug War" as the crisis du jour.