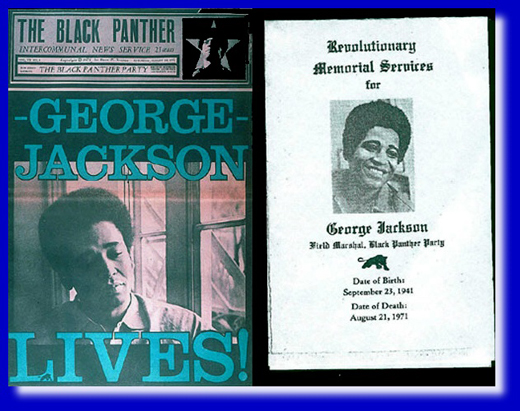 I remember George Jackson. I remember re-reading his books while in jail and in prison. I remember it was just a few months after my federal indictment that Comrade was assassinated in prison. I remember in the summer of 1970 the heroic effort of his seventeen year old brother, Jonathan, to free him, ending in his own death. I remember the power that George Jackson represented and the fear he generated in the slave masters and rulers of the USA.
As we approach the fortieth anniversary of the state murder of George Jackson we must not only remember him. No, he would want us to forget about that, and continue the struggle he started so many decades ago. What George Jackson fought for has not been won, what he dreamed of is still a dream.
It is up to us to end the nightmare. It is up to us to make the dream a reality.
The he following is from the San Francisco Bay View.
Commemorating the 40th anniversary of the assassination of Comrade George Jackson
by Kiilu Nyasha
George Lester Jackson, known as Comrade, spent 11 years in California prisons, mostly in solitary confinement. After plea-bargaining a $70 gas station robbery in 1960, he got one to life.
"I met Marx, Lenin, Trotsky, Engels and Mao when I entered prison and they redeemed me. For the first four years I studied nothing but economics and military ideas," he wrote. (All the quotations are from Jackson's two books, "Soledad Brother: the Prison Letters of George Jackson" and "Blood in My Eye," published posthumously.)
It's ironic, if not planned, that this 40th anniversary coincides with California prisoners going on hunger strike beginning July 1 and continuing to press time. Comrade had been an effective organizer: In 1962, he organized a strike at Tracy in protest of bad food that united all the prisoners on the tier, regardless of color. The current strike has done the same.
George Jackson, pictured here in San Quentin, wrote two books while behind enemy lines, "Soledad Brother" and "Blood in My Eye," that remain wildly popular, especially with prisoners.
The prison population of the nation has skyrocketed to a whopping 2.4 million. California has transferred at least 10,000 prisoners out of state to private prisons – no visits − leaving at least 160,000 prisoners overcrowding this very profitable system.
A lucrative product: In 2010, revenues for the top private prison companies – Corrections Corporation of America and GEO Group – exceeded $2.9 billion.
California prison guards alone can sock away $300,000 a year with overtime pay according to Forbes 2009 (www.forbes.com) and its chief psychiatrist was paid $838,706 – more than any other state employee in 2010. California's total budget is now approximately $9.5 billion.
"Imprisonment is an aspect of class struggle from the outset. It is the creation of a closed society which attempts to isolate those individuals who disregard the structures of a hypocritical establishment, as well as those who attempt to challenge it on a mass basis."
Comrade must be turning over in his grave at the news that the NAACP has joined with the Tea Party, the California Prison Guards Union and Newt Gingrich in addressing, in the words of NAACP President Ben Jealous, "the urgent need to reform our nation's criminal justice system."
"That will be your main source of opposition – the Black running dog." Comrade couldn't have known how right he was: Add Obama!
George and Jonathan Jackson the last time George was home – Photo courtesy It's About Time, Black Panther Party Archives
"The 'good white people' who own things will always give them a few inches in their papers or other media. That's how fascism works, influencing the masses and institutions through elites."
"The U.S. has established itself as the mortal enemy of all people's government, all scientific-socialist mobilization of consciousness everywhere on the globe, all anti-imperialist activity on earth."
"Despite presence of political parties, there is only one legal politics in the U.S. – the politics of corporativism. The hierarchy commands all state power. There are thousands of ways, however, to attack it and place that power in the hands of the people."
"[T]he old guard must not fail to understand that circumstances change in time and space, that there can be nothing dogmatic about revolutionary theory. It is to be born out of each popular struggle … [that] must be analyzed historically to discover new ideas."
The wealth gaps between whites and the colored majority have grown to their widest levels in a quarter-century with ratios roughly 20-to-1for Blacks and 18-to-1for Latinos. Asians lost their top ranking to whites in median household wealth, dropping from $168,103 in 2005 to $78,066 in 2009.
According to the analysis released in July 2011 by the Pew Research Center, the U.S. poverty rate currently stands at 14.3 percent, with the ranks of the working-age poor at the highest level since the '60s, and it will likely climb higher when new figures are released in September.
"Freedom means warmth and protection against harsh exposure to the elements. It means food, not garbage. It means truth, harmony, and the social relations that spring from these. It means the best medical attention whenever it's needed. It means employment that is reasonable, that coincides with the individual necessities and feelings. We will have this freedom even at the cost of total war."
"Fascism has temporarily succeeded under the guise of reform."
On Aug. 21, 1971, after numerous failed attempts on his life, the state finally succeeded in assassinating Comrade, field marshal of the Black Panther Party. Prison officials claimed Jackson smuggled a gun into San Quentin in a wig in an aborted prison escape. That feat was proven impossible and evidence suggested a setup by prison officials to eliminate Jackson once and for all.
Subsequently, six prisoners were singled out for what became the longest trial in California history. Wearing 30 pounds of chains in Marin Courthouse, facing charges of murder and assault, Fleeta Drumgo, David Johnson, Hugo "Yogi Bear" Pinell, Luis Talamantez, Johnny Spain and Willie Sundiata Tate were tried. Only one, Spain, was convicted of murder. The others were either acquitted or convicted of assault.
Hugo Pinell, the only one of the six remaining in prison, has suffered prolonged isolation in lockups since 1969 − the last 20 years in Pelican Bay's SHU, a torture chamber if ever there was one. A true warrior, like Comrade, Yogi would put his life on the line to defend his fellow captives against sadistic guard attacks. He has just come off the hunger strike initiated in Pelican Bay.
As Mumia Abu-Jamal stated, "Their sacrifice, their despair, their determination and their blood has painted the month Black for all time."
This Black August, let us honor our martyred freedom fighter, Comrade George, as well as those who recently joined the ancestors: Donald Cox, Michael Cetawayo Tabor and geronimo ji Jaga. And let us not forget all those who remain captive after many decades: Mumia Abu-Jamal, Sundiata Acoli, Herman Bell, Romaine "Chip" Fitzgerald, Ruchell Cinque Magee − sole survivor of the Marin Courthouse Rebellion of Aug. 7, 1970 − Jalil Muntaqim, Albert Woodfox, Herman Wallace, Leonard Peltier, Oscar Lopez-Rivera and exiled freedom fighter Assata Shakur, to name just a few.
"Settle your quarrels, come together, understand the reality of our situation, understand that fascism is already here, that people are dying who could be saved, that generations more will live poor butchered half-lives if you fail to act. Do what must be done; discover your humanity and your love in revolution."