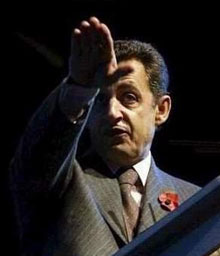 Adolph Sarkozy
Now, it really may be time to boycott french fries...if they come from France that is.
France, in the midst of a nazi like deportation project aimed at the Roma people and other travelers has called for a summit to occur in Paris next week to deal with the "issue of immigration." Gee, what could they have in mind.
Did I mention that the countries NOT invited are Romania and Bulgaria, which happen to be the countries to which France is expelling the Roma.
Did I mention that today France said it will step up deportations of "foreigners caught stealing or begging aggressively." Hmmm, I wonder what they're thinking.
What they're thinking was made perfectly clear at a press conference today where
interior minister Brice Hortefeux and immigration minister Eric Besson said they had no intention of rowing back on the policy, which has provoked concern from the UN, the EU and many leading figures of French society.
"The evacuation and demolition operations of illegal and illicit camps will continue because they are legitimate and necessary," said Hortefeux, adding that 128 squats had been broken up and almost 1,000 people had been sent back to their country of origin – most of them "voluntarily" – since the end of July.
In response to all this racist crap, a coalition of Roma groups has called for a European boycott of
French products and services to protest against the clampdown to begin September 6 (the same date the above mentioned Summit opens). Hey, why leave it to the Europeans. Not that I'm a big fan of boycotts accomplishing much, but what the hey, let's all join in!
By the way there are signs of cracks in the French government. The Guardian reported today,
"..
the foreign minister, Bernard Kouchner, admitted he had considered resigning over the matter, saying he agreed with the basics of the policy, but was not happy with aspects of its execution.
"And, over the weekend, defense minister Hervé Morin irritated Sarkozy by reading a text message sent to him by a friend of North African origin. "'We, French of North African descent, are very proud to officially hand over to Roma the role of the scapegoat responsible for all of France's ills ... Good luck to them!'" said Morin, who is part of the Nouveau Centre party, not the president's Union for a Popular Movement."
The following is from Expatica.Com.
ROMA NGOs CALL FOR EUROPE--WIDE BOYCOTT OF FRENCH PRODUCTS
A federation of Romanian Roma civic organisations called Monday for a Europe-wide boycott of French products and services to protest against the French government clampdown on this minority.
"We call for a Europe-wide boycott of French products and services starting from September 6," Roma Civic Alliance President David Mark told AFP.
The Roma Civic Alliance is a federation of 21 Romanian NGOs involved in improving the life of Roma and Gypsy populations in this European country.
The NGOs also called on "Roma brothers and sisters, friends of all ethnic groups, all those committed to the principles of equality" to join protests in front of French embassies on the same day.
The boycott call has been sent to major Roma organisations in Europe "in order to make the French rulers more aware of the fact that fundamental rights are not subject to negotiation", the Alliance added.
"We know that the purchasing power of Roma is usually limited but nevertheless we think that this action is useful," Mark said.
Romania counts between 530,000 and 2.5 million Roma out of a total population of 21.5 million inhabitants.
France is Romania's fourth-largest commercial partner.
The boycott will "cease when the French authorities cease mass expulsions and stop criminalising an entire ethnic group," Mark added.
"We chose September 6 because the French government will organise a summit in Paris to discuss the Roma issue but the authorities only invited a few European countries", he stressed.
France has invited the interior ministers of Germany, Spain, Greece, Italy, Great-Britain as well as the Belgian EU presidency for a meeting on "asylum and illegal immigration" in Paris on September 6.
The Italian Interior minister Roberto Maroni said the issue of Roma will be discussed.
"Roma issues should be discussed in regular European meetings and not in a summit where only a handful were invited, leaving aside eastern European countries" host to large communities of Roma, Mark insisted.