In China, the protest capital of the world these days, hundreds of persons have been lambasting authorities who want to build a polluting incinerator in in Guangzhou, capital of southern China's Guangdong Province.
The sludge-burning power plant, which is being planned to be built in Nanhai district of the city, has raised public concern over the surrounding environment both in the surrounding district and nearby Gaoming district.
One official, Ye Wen, who appears confused about how pollution works in such situations, said the proposed incinerator site was safe because it was surrounded by mountains on three sides.
On the morning of January 25, Guangzhou internet activist Wen Yunchao (aka Bei Feng [北风]) was taken in for questioning for approximately five hours by National Security officers. Wen was approached by police when he stopped by to observe the ongoing protests by Guangzhou citizens over the garbage incinerator. The authorities have placed increasing pressure on Wen in recent weeks; he was summoned for questioning twice in December, and recently forbidden from leaving the country.
The following is from the China Daily.
Officials feel heat over waste incinerator
By Qiu Quanlin (China Daily)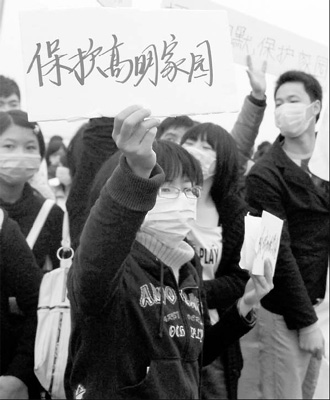 A woman holds a placard that reads "Protect the pure land of Gaoming" during a protest against plans to build an incineration plant in Foshan, Guangdong province. [China Daily/Guo Jijiang]
Guangdong residents say plant will threaten health, environment
GUANGZHOU: Authorities of Gaoming district in Foshan, Guangdong province, yesterday vowed to firmly oppose the construction of an industrial waste incinerator if the plant threatens the environment and health of its residents.
Related readings:


Environmental survey results over incinerator questioned


Villagers halt waste incinerator


New plan promises major reduction in incinerator levels


Residents opposed to incinerator project


Residents say 'no' to garbage incinerator

The pledge followed two consecutive days of protests by residents who demanded Nanhai district authorities, which neighbors Gaoming district, scrap plans to build its Jiangnan industrial waste incinerator.

Wu Jianfeng, a press official with the Gaoming district, said the incinerator had not yet been approved for construction by Nanhai authorities.

Wu said environmental protection authorities in Nanhai district had consulted Gaoming officials about the plans.

"Should the Nanhai sludge incinerator fail an environmental impact assessment, we will be firmly opposed to the project," Wu told China Daily.

"We hope Nanhai authorities would respect our opinions and attach more importance to approving such a project."

The project is designed to help generate electricity for the existing Jiangnan power plant by burning industrial waste and will be built 2 km across the Xijing River, a tributary of the Pearl River.

A second envionmental assessment of the project, conducted by the South China Institute of Environmental Sciences, has been completed but the results have not been released. The first assessment said pollutants were in line with the national standard.

Nanhai authorities have yet to approve the project and if it is unable to reach a consensus with Gaoming officials on its construction, then the Foshan government will step in.

Yesterday, about 300 people from Yongxing village near Guangzhou's largest garbage incinerator in Likeng, Baiyun district, gathered in front of the city's government office to voice their opposition to the plant.

Villagers said about 40 people had died of cancer since the incinerator began operation in 2006.

It followed a protest on Sunday by about 400 residents in Gaoming district. They were concerned about pollution drifting into their district.

The Foshan government said the plant is not yet approved.

"We have not received the final environmental impact assessment report. If both districts do not reach an agreement, it will be for higher authorities to take a decision on the project," said Lu Danmiao, deputy director of Foshan government environmental protection bureau.

"One thing is for sure, that pollutant discharges of the proposed plant should meet the national standard. Otherwise, we will not approve the project," Lu said.

Villagers near the Likeng plant, the country's largest garbage incinerator, have made consistent complaints about health problems since last year.

"We have to get drinking water outside of the village. Water in the wells can no longer be used," a 72-year-old resident surnamed Huang told China Daily during an earlier interview.

However, local officials have maintained the incinerator plant is not linked to deaths or cancer in local villagers.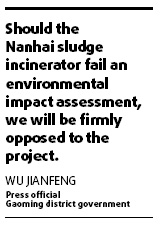 "It is a rumor that the number of death and cancer cases has been rising after the garbage incinerator in Likeng was put into operation three years ago," Su Zequn, vice-mayor of Guangzhou, said in an interview in December.
"We have to let the public be aware that burning trash in advanced and environmentally friendly facilities is an ideal option for the city to deal with the rising amount of garbage," Su said.
The protests were among many recent demonstrations by residents in the province against high-polluting industrial projects, including a planned waste incinerator in Panyu district in Guangzhou, the provincial capital.
The province has reaffirmed its determination to improve the environment ahead of the 16th Asian Games, to be held in Guangzhou, in November.
A proposed large oil refinery in the ecologically rich Nansha district was relocated to a less populated area in Zhanjiang in western Guangdong last November, after a major public protest.