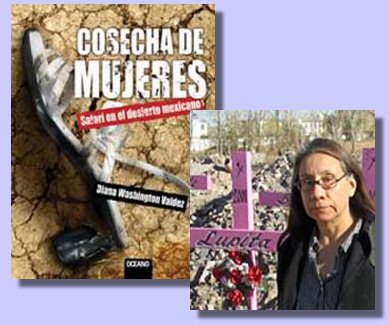 It's business as usual in Juarez.

The decomposing body of a teenage girl was found Thursday afternoon at the edge of an agricultural field in Juarez, Chihuahua state police said. The victim was found in the same subdivision that reported an attack last month against a 14-year-old girl inside a grocery store.

Investigators said the 16-year-old girl found dead was strangled. She is described, reports KVIA in El Paso, as being dark-skinned, with dark hair that was cut short at the forehead and was long at the rear.

The death was the second woman slain in Juárez this week.

On Wednesday morning, the Los Cruces Sun reports, another woman was found in the abandoned Casa Quiñonez retail center in a construction zone downtown . She died at a hospital about an hour after she was found.

The unidentified woman, who was about 45 years old, had multiples cuts and bruises on her body and may have been stabbed.

This brings to 17 the women killed so far this year in this city bordering the United States, and to more than 400 since 1993, authorities said Thursday.

Many say those numbers are way low.

Organizations such as Amnesty International and Human Rights Watch, for example, vehemently believe 400 is a conservative estimate, citing the Mexican government's necessity to undermine the actual count to avoid further scrutiny, for apprehension it will put further strain on political and economic relations with its trading partners.

Many of the murdered women, including the two latest victims, appear to have been sexually assaulted.

"Women murders are a sad reality and go unpunished," Maria Tabuenca and Julia Monarrez said in a book on the numerous homicides.

"There's no indication so far of any commitment from federal or state governments to solve these murders," they added.

The police, who have done such a wonderful job with this investigation for all these years say, however, they are on top of the case.

Less than a month ago, a Mexican judge sentenced Edgar Alvarez Cruz to 26 years in prison for allegedly murdering women in Juarez, Mexico.

Judge Flor Mireya Aguilar, who previously revoked the charges against Alvarez for lack of evidence, reversed herself today and found him guilty.

The same judge has presided over previous femicide cases with controversial findings and rulings.

According to the blog site of Diana Washington Valdez (an investigative reporter for the El Paso Times, and pictured above), Alvarez has repeatedly denied the allegations, and witnesses testified he could not have the committed the slayings attributed to him because he was in Colorado at the time.

Chihuahua state authorities, Valdez points out, have a history of using scapegoats to solve the women's murders, and supporters of Alvarez, including criminologist Oscar Maynez, contend there was no evidence linking the Juarez man to the crimes.

George Gonzalez, a crime investigator cited by Valdez, said the U.S. embassy in Mexico had a role in this latest episode of the notorious Juarez deaths.


"Nothing seems to change," he said. "It's the same old corruption, only this time the U.S. embassy in Mexico, which pressured the Mexican authorities to develop a conviction from the tip it provided, may be to blame for an innocent man's incarceration. Everyone knows the real killers are still out there. The killers know who they are and must be laughing.

"This is the biggest irony. You've got cops that might be crooked seeking U.S. asylum and medical treatment in New Mexico and Texas. The Mexican authorities brought out the army to calm the drug violence perpetrated by drug dealers and their corrupt accomplices. Criminals like (former Juarez police chief) Saulo Reyes are getting the red carpet treatment, even if he is in jail, while families of the femicide victims get brushed aside.

"Nobody called up the army for the girls, nor was any of them ever sent to El Paso, Texas, for treatment. I sort of expected the case against Alvarez Cruz would resurface during this chaotic time at the border, and there it is."
And there it is.

The following is from Newspaper Tree.

Group issues report on violence against women in Juarez
by NPT Staff
Editor's note: The following is an e-mail update sent by Amigos de las Mujeres de Juarez, a group that tracks violence against women in Juarez. It is a sobering assessment of conditions in that city, which, although the murder rate may exceed only slightly that of a violent U.S. city (such as Detroit), has become more and more unstable due to the drug wars and the attendant breakdown in the protections taken for granted in civil society.
***
Murders
This year Cuidad Juarez has been engulfed in violence. Army troops patrol the streets and over 450 men have been murdered so far this year in cartel violence. In the midst of this, Casa Amiga Centro de Crisis A.C. has recorded seventeen cases of femicide from January 1, 2008 until May 5, 2008 . The victims have ranged in age from ten to forty-eight years old. One of the victims was eight and a half months pregnant and the fetus was also lost in the crime. Seventeen of the victims could not be identified. In each case where a perpetrator was suspected or found guilty the individual was male. Several of the cases included the sexual violation of female murder victims including the case in which a ten year old girl was found completely nude in her own home with a bag of condoms next to her deceased body. Many of the victims were murdered with knifes or guns. Many were stabbed multiple times in the neck, back and chest. Other victims sustained multiple bullet wounds also to the neck and head. One twenty year old victim was stabbed three times in the neck and eight times in the back. Another victim was shot to death and found with 31 bullet wounds throughout her body. Almost half of the victims left more than one child behind. While some of the female victims were killed and left in their own homes others were left in open fields surrounding Ciudad Juarez . One victim was killed in front of her own home, another was thrown out of a moving car and another was found in a bloody hotel room where 95 bullet shells were also discovered. In one case where the identity is still unknown, a female body was found in el Valle de Juarez where the victim was determined as having been dead over a month. The remains of this unknown victim were found half nude and devoured by animals. As a result of the state of the victim's body, the cause of death has also yet to be established. Despite the high number of murders that have already taken place this year in Ciudad Juarez the government's efforts to investigate and determine the perpetrators of these crimes remains very low. According to WALO (Washington Office on Latin America) "flaws in the police and judicial institutions compounded by gender biases, resulted in a blatant failure of Mexican authorities to investigate, prosecute and punish those responsible for the murders, contributing to a climate of impunity."
Missing
Casa Amiga along with the Centro de Derechos Humanos de las Mujeres have also determined that at least two women have been reported missing this year already. Adriana Sarmiento Enriquez was last seen on Friday January 18th of this year where her friends say she waited at a bus stop after eating with them upon leaving school. Adriana is fifteen years of age and remains missing six months after her friends last saw her. Hilda Gabriela Rivas Campos, another high school student who is sixteen years of age, disappeared in a similar manner. Hilda was walking through the center of Ciudad Juarez on her way home from school when she was last seen on February 25th of this year. The families of both of these two young women continue to search for their loved ones.
Threats to Activists
Several human rights and women's rights activists in Ciudad Juarez work diligently to continue supporting and aiding the victims' families in their quest to find justice for their daughters. Activists include Cipriana Jurado who works with women's rights organizations and is also the director of the Worker Research and Solidarity Center in Ciudad Juarez . Jurado is well known for her long-time support for families of female murder victims. On April 2nd of this year, Jurado was arrested by Mexican police officers and shoved into an unmarked vehicle. Jurado had just recently returned to Ciudad Juarez and was arrested exactly a day after visiting forensic offices in an effort to further investigate a young woman's murder. The charges made against Jurado in April of this year date back to an incident that took place during a protest in 2005, three years prior to her recent arrest. After hearing of Jurado's arrest, several activists on both sides of the US-Mexican border came together to protest the charges made against her. The group of protesters met in front of the federal court offices in Ciudad Juarez . Among those protesting Jurado's arrest was Casa Amiga's Esther Chavez Cano and members from the Juarez organization Nuestras Hijas de Regreso a Casa. Marisela Ortiz, the current spokeswoman for Nuestras Hijas, reported that she had recently received death threats via telephone and email. Also well known in the Juarez activist community is Chihuahua city lawyer, Lucha Castro, who is also the director of the Women's Human Rights Center in Chihuahua . Castro also reported having received threats in the same manner as Ortiz. All four of the women mentioned above have been active in a widespread effort to continue the efforts to seek justice for the murdered women of Juarez . What remains puzzling is why these women, after numerous years of involvement in the efforts to end the femicide, are now being targeted and by whom?
Recent Events
Recent events in Ciudad Juarez may help explain the latest threat to female activists working in the city. According to recent reports found on FronteraNorteSur.com, the Mexican government has implemented a military coalition known as "Operation Chihuahua Together". In a response to increased drug trafficking and increased drug cartel related homicides the government has brought the military into the city of Juarez in an effort to control the drug crisis taking place throughout the state of Chihuahua . Unfortunately, the military presence has been unable to curb the violence. Instead the city's murder rate has already exceeded the rate for the full year of 2007. If this trend continues, the number of murders will likely double from 2007 to 2008. Increased drug cartel activity, increasing murder rates and military attempts to crack down the violence make conditions exceptionally difficult and dangerous for femicide activists. Activists like Esther Chavez Cano and organizations like Nuestras Hijas de Regreso a Casa, and Justica para Nuestras Hijas continue to organize and fight. On March 8th of this year only a few weeks prior to the arrival of military forces in Ciudad Juarez the groups mentioned above along with other activists from both sides of the US-Mexico border joined on International Women's day to protest the violence that continues to target the women of northern Mexico. The protest held on March 8th of this year marked the 15 year anniversary of the femicide in Ciudad Juarez .