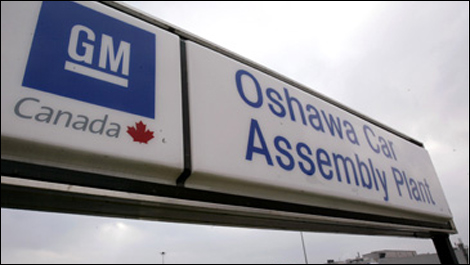 The headquarters of General Motors Canada in Oshawa, Ontario was blockaded early Wednesday by union auto workers protesting the plant's scheduled closure.

Access to the site, east of Toronto, was blocked by as many as 30 trucks, forcing corporate workers to park off site and walk into the building, the Toronto Sun reported.

The protest was organized by the Canadian Auto Workers union Local 222, angered over GM's announcement Tuesday it will close the plant in the third quarter of 2009 along with two in the United States and one in Mexico.

Union leader Buzz Hargrove charges General Motors of Canada has breached a contract by planning to close its Oshawa truck plant next year.

Hargrove, president of the Canadian Auto Workers, said that decision clearly violates a contract commitment of less than three weeks ago to keep the operation open.

An angry Hargrove said GM made written commitments for future truck production and a new generation of models at the plant beyond 2011, and is now "illegally violating" those contract terms.

CAW Local 222 president Chris Buckley said workers overwhelmingly accepted the three-year contract with a wage freeze because of the commitments for future work.

"Can you imagine how our members today feel?" Buckley said. "They're now told by General Motors, `You don't have a job in 2009.' That's absolutely disgraceful of GM."

A seething Buckley placed the blame for the plant's demise squarely at GM's feet.

"It's corporate greed," he told reporters, slamming the manufacturer for the "highest level of betrayal" two weeks after workers signed a three-year contract they believed was a commitment to build the next generation of pickup trucks at their plant.

"They lied to the union and employees and misled the entire world," Buckley said, stressing the trucks will still be built, but in Mexico and the U.S.

"I challenge them to try to take one part of our plant. That truck will not leave Oshawa. We'll fight them to the bitter end."

When plant worker Nigel Drane heard the news yesterday that General Motors planned to halt production of its pickup trucks in Oshawa, Ont., a decision that would leave about 2,600 people out of work, he phoned in sick.

"I told them it was a day of mourning," he said.

The following is from Canadian Press.

Behind bluster of protest, GM workers fearing for their future

OSHAWA, Ont. — Angry General Motors workers put up a defiant front Wednesday as they blockaded the company's corporate offices, a show of protest they hope will help reverse the embattled automaker's decision to mothball a truck plant that employs 2,600 people.

Behind all the placards, flags and shouts of anti-government rhetoric in this auto-manufacturing hotbed, however, loomed the grim reality of an uncertain future - one that Tuesday's sudden bad news has given few GM workers much of a chance to prepare for.

"We try to make light of it, keep a smile on our face, keep our spirits up, (but) I'm pretty sad," said Bob Cain, a 23-year veteran of GM who showed up at the protest in hopes of winning some form of concessions from the company.

Cain, 42, struggled to keep his composure as he spoke about his nine-year-old son Ashton and how he plans to provide for his future.

"I don't know," he said jokingly. "Get a paper route?"

More than 150 workers were at the blockade throughout the day Wednesday, promising to stand their ground until GM either changes its mind about closing the plant next year or agrees to compensate the affected employees, said union spokesman Chris Buckley.

Buckley, president of the Canadian Auto Workers union Local 222, later said GM had agreed to meet Friday in Detroit with senior union leaders. Until then, he said, the protest isn't going anywhere.

"I would have travelled to Detroit this afternoon to meet with them, but apparently they can only meet on Friday morning," he said.

"(Given) the severity of the situation, one would think they'd want to meet as soon as possible to put this issue behind us."

The protest could be just the first step in an ongoing fight against the automaker's plans, although GM plant workers were being told they should continue working, Buckley added.

"We are encouraging our members in the plants to continue to build cars and trucks. We are not asking our members to withdraw our services."

The protest began early Wednesday as a blockade of the GM building, but eventually some corporate employees were allowed to pass and enter the building. Shortly after the business day began, however, GM decided to send its corporate staff home.

General Motors spokesman Stew Low called the protest "understandable" and said the company wasn't looking for police assistance.

"This is a very tough thing for employees to go through and for the union to go through and us as well," Low said.

The company would be willing to meet with the union to explain its decision, which is a reflection of the changing market for more fuel-efficient vehicles, he added.

"We'd love nothing better than to be continuing to build pickup trucks in great volumes, but . . . consumers are moving away from big trucks to cars and smaller crossover vehicles and we're transforming to be a part of that," Low said.

Ontario NDP Leader Howard Hampton arrived in the afternoon to meet with protesters and said companies that receive public money, such as General Motors, should be held accountable for the treatment of their workers.

"Protests like this are a way of saying to companies that we expect companies to live up to their agreements," Hampton said. "We expect companies to respect workers."

The company shouldn't be allowed to take public money, then backpedal on a contract deal negotiated two weeks ago, he added.

The Ontario government plans to try to recoup part of a $175-million provincial loan earlier than planned if GM was found to be violating minimum job levels specified in their agreement.

Premier Dalton McGuinty wouldn't say Wednesday whether he thinks the protest should continue, but said he understands the plight of the workers and respects their right to earn a living.

"This is their livelihood," McGuinty said. "There aren't that many things that are more important than that. It's their ability to feed their families and build a bright future for themselves."

Tracy Ryder, 41, worked for GM for 20 years before she was laid off at Christmas, a move that has forced her to make tough decisions ever since.

All employees can do for now is put faith in their union, Ryder said.

"I've sold my house because of the uncertainty already, and then when I heard the news yesterday about the truck plant closing altogether, I thought, 'Well, I've made the right decision."'

Protesters said they plan to continue their demonstration through the night and possibly the next several days in order to stand up for their jobs and their industry.

It likely won't be enough, said one analyst.

The industry is changing so rapidly that there just isn't demand for the types of vehicles GM's truck line was producing, said Scotiabank economist Carlos Gomes.

"The shift from big vehicles has accelerated quite dramatically," Gomes said, citing a sales decline in trucks of 15 per cent in the first quarter of 2008 alone.

"These types of vehicles are not selling at the moment."

Tuesday's cuts are another blow to the battered manufacturing sector in Ontario and Quebec, which has been decimated by layoffs and closures in the lumber, auto assembly, textiles and auto parts sectors. A high Canadian dollar and a slump in the United States have squeezed exports in those industries and produced widespread streamlining at the so-called Big Three carmakers - GM, Ford and Chrysler.