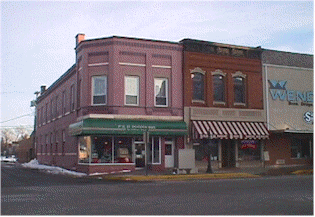 Okay, this is a class war story, but largely not about the working class. This one has more to do with the war between small businesses and the Wal-Marts of the world.

Perhaps, this is not a politically correct subject for a so-called left wing blog. But you know I remember the war my father had to wage to keep his little shoe store alive as shopping malls arrived on the scene decades ago. He worked night and day, six days a week, and eventually was reduced to largely employing his family to make a go of it. Somehow he saved enough money to be able to get out of business around 1980 and then live another 14 years (much of that time working part time for others), while providing his family a decent life. Still, it was a struggle for a man who I remember was so proud when he could stop working for others finally in 1959 and own his own shop literally on Main Street in Kansas City.

But that is, after all, how capitalism works. The big drive out the little. It's the nature of the beast.

The effect of the big, national box stores on the small town are too obvious to ignore.

Sandy Wilbur in a commentary entitled "Buying Local VS Sending Your Assets South" pointed out rather effectively:

Local businesses suffer from the competition, often to the point of going under. For example, one study by an Iowa State University economist found that five years after the opening of a superstore, locally owned small businesses within a 20 mile radius had experienced a 19% decline in sales [quoted by 1000 Friends of Iowa].

·Downtown areas suffer because business is pulled away to the outskirts of town, where the chain stores usually establish themselves.

·Money that used to circulate within the local community - helping to keep the area's economic base healthy and diversified - now goes to national or international corporate headquarters elsewhere. The suggestion that the large chains help local communities by donating great amounts of money to local causes seems largely unfounded. For example, it has been reported that Wal-Mart donated $163 million in 1999, but that is "the equivalent of someone who makes $40,000 a year giving $40 to charity" . A 1991 Oregon State University study of 182 businesses suggested that small employers - the kind that the "big boxes" are most likely to put out of business - are much more likely to support local causes and charities than are larger ones. In that one example, companies with fewer than 100 employees gave an average per employee of almost $800; companies of over 500 employees had an average giving level of less than $350 per employee [Home Town Advantage Bulletin].

·The jobs created locally seldom live up to expectations. Many turn out to be part-time positions, with average pay and limited or no extra benefits.
But let's face it, people, even those who would tell you they hate these big stores (and in my dad's day those suburban malls), most of them go to them to shop because it's simple, they've got multiple products (you see on TV), and they seem (even though they may not be) cheaper - and dad gummit they provide parking.

Anyway, this is a story about one women's attempt to save her small town downtown from extinction at the hands of the regional big box stores. It's a nice idea, but let's face it, in the end it is doomed to fail.

St. Anthony, Idaho is a town of less then 4,000 which voted more than four to one for Mr. Bush. The people of St. Anthony no doubt believe the GOP to be the only party that cares about the small businessman. Of course, Bush could give a rat's ass about some shop owner in Podunk, USA. But the perception is that this good ole boy - who just likes to clear some brush on his ranch - really does care about the little guy (or, at the very least, it used to be the perception anyway).

The sad truth though is the Democrats could care less either. In fact, the only one who even appears to stand up for the little people is John Edwards (and the little people don't trust him cuz he's a rich lawyer - as if all the politicians aren't rich something or others).

And us good ole leftie activists, well, when was the last time you actually hung with the regular folk down at the local saloon, or church, or drive in or bake sale or...or...either.

Be honest!

PS - One of the many things I loved about my friend Carol who died last year was she could answer "YES" to that question. She did hang, live with, play and understand the very folks the rest of us as talk about, theorize and mythologize. She didn't just work at the auto plant as some sort of "left work", she went to the quilting bees, truck pulls, dated, and lived with working poor Americans. And you know what, those folks trusted her as a result.

The following is from the Idaho News.

Economist aims to save small-town businesses
By KENDRA EVENSEN
ST. ANTHONY -- Fremont County Economic Specialist Cathy Koon wants to start a revolution.
She's declaring war on out-of-town shopping in order to protect St. Anthony businesses, the victims when consumers drive to Rexburg or Idaho Falls to buy items.
Her battle plan is simple: Develop a community store that can meet residents' needs and keep business in town. The maneuver could help consumers while boosting the economy Koon's watched struggle for years. But so far, she's having trouble rallying the troops.
Only 20 people have enlisted in the plan Koon has been promoting since April. She's making a last-ditch effort at a town meeting tonight to gain more support but likely will retreat if she can't get it.
"Whether people show up or not on Thursday might make or break this," she said. "If the community doesn't want this, I'm wasting my time."
She doesn't think she has been.
Although the idea is slow to catch on in St. Anthony, small towns across the nation are showing interest in community stores that can compete with big-box stores. The stores are owned by town residents who purchase shares to fund the upstart and supply items residents need.
One example is the Powell Mercantile in Powell, Wyo.
Manager Paul Ramos fields calls daily about the store and has heard from every state but Hawaii and Alaska. The five-year-old mercantile, which has been featured on National Public Radio, CBS News and Smithsonian Magazine, has carved a niche by supplying the community with all sorts of clothing items -- from name brands to prom dresses.
Ramos said the store gives people a reason to shop in town and other local businesses reap the benefits. Customers coming into the mercantile are carrying bags from nearby hardware and office supply stores, he said.
"It's wonderful for not only the store, but downtown Powell," he said.
That is Koon's vision for St. Anthony.
She thinks a clothing store similar to Powell's would fill a need in St. Anthony without competing with established businesses. A community poll would decide what items to sell.
The products would have to draw people from St. Anthony and surrounding communities such as Ashton and Rexburg -- a must for the store to work, Ramos said. Though Powell has only 5,300 residents, surrounding communities give it a 15,000 customer pool to draw from.
Plano resident Lynne Byrne has done some of her shopping in St. Anthony in the past, but usually goes to Rexburg because of the variety.
The proposed store would be an advantage for those who don't want to travel, she said, but it would have to offer unique bargains to compete with Wal-Mart and K-Mart roughly 15 miles away.
But Koon believes they could do that and still make
it work -- if they can get the support.
She said it would take 18 months and about $400,000 (sold in $500 shares) to get the store up and running. Many of the details still need to be worked out, but she hopes residents will catch the vision and start making suggestions.
"This isn't the answer to everything, but it's a start to turning things around," she said. "I hold out hope that this is a good thing for St. Anthony."
If you go
What: town meeting to discuss a community-owned store
When:
7 p.m. today
Where: the Veterans' Hall in St. Anthony