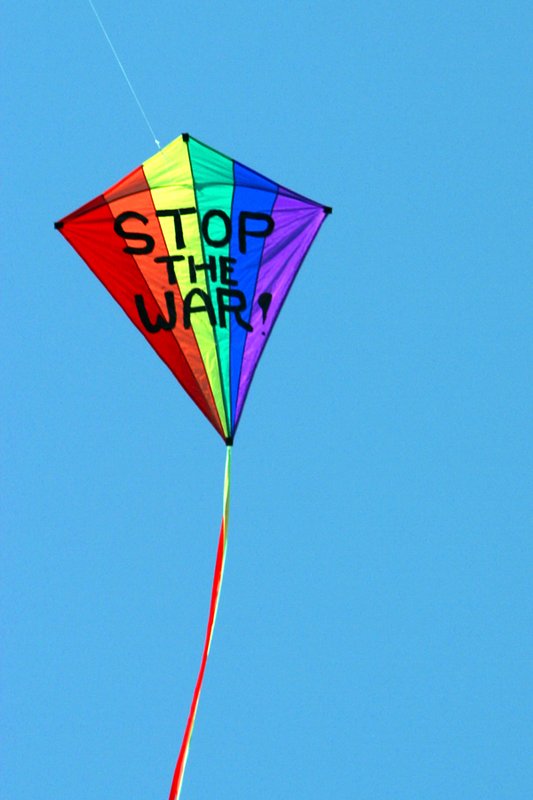 Thirteen persons were arrested sitting in at Rep. Tom Allen's office in Portland last night. The sit in was part of the on going
Occupation Project Campaign
. The Occupation Project is, "a campaign of sustained nonviolent civil disobedience aimed at ending the U.S. war in and occupation of Iraq." The campaign challenges Representatives and Senators to publicly declare that they will vote against any further funding for the war in and occupation of Iraq.

The following article is taken from the Portland Press Herald.

Allen office sit-in leads to arrest of 13 activists
Police arrested 13 Iraq war protesters during a sit-in at U.S. Rep. Tom Allen's office in Portland on Wednesday night.
The group entered Allen's Exchange Street office Wednesday afternoon and sat on the floors for hours, reading aloud the names of deceased Iraqis and U.S. soldiers. Members of the group said they planned to stay until the 1st District Democrat addressed their concerns or police arrested them.
The protesters were part of a national campaign, called The Occupation Project, aimed at pressuring Democrats in Congress to cut funding for the Iraq war.
Similar sit-ins have led to arrests at the local offices of U.S. Sens. Barack Obama, D-Ill., and Claire McCaskill, D-Mo., according to published reports.
In Portland, police arrested the 13 protesters on trespassing charges around 8:45 p.m., said Lt. Michael Jones.
One member of the group said the campaign reflects a tactical shift for war protesters frustrated by a Democratic congress unwilling to cut war funding.
"We need to ratchet things up a bit," said Phil Weyenberg of Old Orchard Beach, a Peace Action Maine board member who was not among those arrested.
Allen opposed President Bush's decision to send 20,000 additional troops to Iraq and co-sponsored legislation that seeks to have American troops out of the country by the end of this year.
Weyenberg said Allen met with activists last week and told them he would not vote to eliminate funding for the war.
"I believe he wants to be a good senator more than he wants to be a good congressman," said protester Dexter Kamilewicz, referring to Allen's possible run for the Senate in 2008.
Kamilewicz, whose son did a tour in Iraq with the Vermont National Guard, ran unsuccessfully for Allen's House seat last fall on an anti-war platform.
Allen staffers called police as they prepared to close the Exchange Street office around 5:45 p.m.
Mark Sullivan, a spokesman for the congressman, met with police but did not initially ask them to remove the group.
Allen's staff members tiptoed through the sit-in while they wrapped up their business Wednesday afternoon. They kept the office open later than usual in an effort to accommodate the protest, even suggesting that participants leave and return this morning.
Police did not release names of those charged, but Cumberland County Jail officials confirmed that authorities arrested Kamilewicz and a dozen others. The list of those arrested did not include ages and hometowns, though several are well-known anti-war activists.